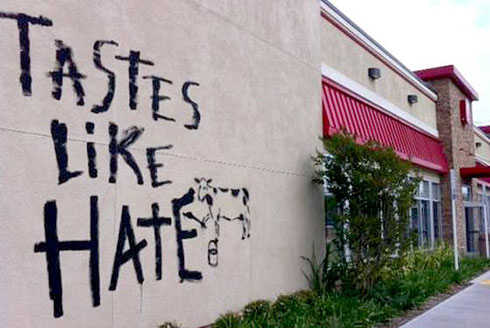 TL:DR (subscriber content) – Chick-Fil-A CEO Dan Cathy announces that the company will build a new Chick-Fil-A (CFA) restaurant in Atlanta's Westside, hoping to help revitalize the notoriously blighted community.
First off, I just recently started playing Dragon Age: Origins (like, ten years late), so I think it's actually hilarious that they use the phrase "blight" to describe the resurrection of evil monsters hellbent on overtaking the world, when in modern society, "blight" is pretty much a politically correct term to describe "a predominantly black community with a high rate of crime."
Depending on whom you ask, there might not be that great of a perception of difference, as ironically sad as that might be.
Anyway, I do find it interesting, and certainly brog-worthy, this news that CFA is going to open up a store in Westside Atlanta. Obviously, this is being done because Dan Cathy is one of several people who have a tremendous amount of stake in the new Falcons stadium AKA the Mercedes-Benz Arena (USA), which sits literally on the line that divides the City of Atlanta from the blighted community known as Westside, and it would be in the best interests of everyone as well as all parties involved in the stadium if the surrounding area to the brand new, state-of-the-art home of a mediocre underachieving NFL franchise, were to remain, full of blight.
There's little secret that when it comes to finding a CFA, simply head towards more affluent areas, usually white collar suburbs, and there will be plenty of CFAs to be found, typically inside of Mega-Lo Mart-type shopping centers. Inside major cities, CFAs are about as scarce as free parking, but good chicken is still plentifully available, if you're willing to take a chance at some nondescript looking mom'n'pop operations that will undoubtedly boast "the best wings in _____."
The point it, I think it's going to be incredibly interesting to see the development and results of what happens when a CFA is dropped smack dab in the middle of an area, a little too well-known for crime, shootings on a nightly basis, and other unfortunate occurrences. At least when it comes to the Metro Atlanta area, CFA seems to avoid the crime blotter with regularity, with the parking lot shootings and/or the drug deals gone bad more often happening in the parking lots of like Hardee's or Church's Chickens. But then again, most CFAs aren't even remotely close to most areas where the crime is the most likely to occur.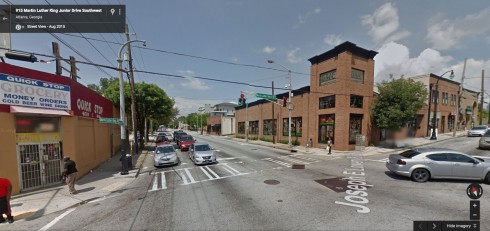 This is the proposed area in which this CFA is planned, at the corner of Martin Luther King, Jr. Boulevard and Joseph E. Lowery Boulevard.
For starters, it's off of an MLK Blvd., which is, if wrestling memoirs have so eloquently put in writing, "if you want drugs, go to whatever city's MLK and you will find them."
But just look at the photo; immediately the first thing seen is the corner store with barred door and windows. Across the block is the stereotypical trifecta of the barber shop, the tax prep shop, and the nondescript food joint where you can get the alleged best wings in Atlanta at. Despite the fact that the announcement states this particular corner, it also states that it is going to be "next to the existing Wal-Mart" (which should be another red flag in itself), which means it will probably be after this block of commerce.
Not only is there the wing joint to compete with, across the street from the very same Wal-Mart is what I would possibly claim to be, the absolute best fried chicken in Atlanta. CFA might be Jesus Christ inside of a bun with two pickles on it, but Busy Bee Cafe's fried chicken is seriously legit in its own right.
Regardless, I've been in this area more than enough times to know that it's a pretty sketchy area. I've parked right next to a police cruiser while dining at Busy Bee Cafe, and I still don't feel safe if it's not day time. I have a hard time believing that the presence of a CFA is going to magically transform the surrounding area into a safer, less blight-y area; which would be some true Sim City logic if it did, but I wouldn't hold my breath.
Don't get me wrong, I'm all for all blighted parts of Atlanta to get cleaned up, and help repair the reputation of the city I reside in, into being something more respectable, and not such a defenseless joke. I admire what CFA is trying to do, and their seemingly selfless attempt to be the first step on what they're hoping is a pilgrimage, but I just can't see this working out for anything other than easy brogging fodder for the future.