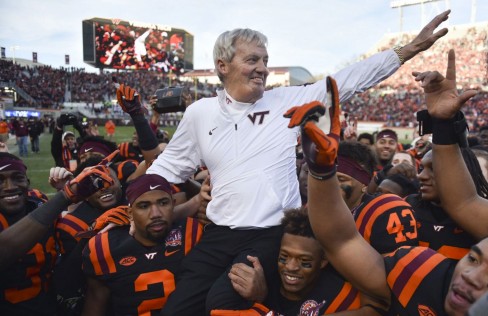 Honestly?  I thought Virginia Tech could've beaten North Carolina.  I know that North Carolina was ranked #17 going into the game and Tech was ranked somewhere between Pop Warner and Grambling State, but come on, it's North Carolina; this wasn't a basketball game, it was a football game.  And sure, UNC is known as the standard-bearer in bullshit student athlete ringers to field a football team, but still.
Either way, more often than naught I'm usually pretty plain when it comes to facing defeat in sports, but over the last few years, Tech games have climbed my ranks of "sports ball games that matter," especially compared to my dwindling care of the Braves and my general lack of an NFL team to support.
The fact is, I was pretty disappointed in Tech's overtime loss to North Carolina, mostly because of the magic comeback they put together to set up overtime in the first place, but naturally the main reason being that it was Frank Beamer's last game in Blacksburg.
Coach slandering is pretty much the same thing as mom jokes; fans are allowed to make them, and fans will sound like the worst people on the planet when it comes to the subject of their teams' coaches, but when the day is over, we still care, and we're still melancholy when the time actually does come, when a long-time, revered coach decides to step down from their mantles.
I remember seeing Braves fans go through the same thing in the years preceding the retirement of Bobby Cox, but when the year final came where ol' Bobby announced his impending retirement, the man could do nothing wrong.  The same thing basically occurred with Frank Beamer, except the fact that he sprung his retirement announcement up with three games left in the season, but since then, it's been nothing but adulation and praise for the career that he has had.
Sure, I've said my share of critical things about how ol' Frank's coaching style is dated, and that a team whose reputation revolved around special teams meant that the teams were severely lacking in more primary areas, like offense or defense.  But the fact of the matter is that without a guy like Frank Beamer, there's no telling that Tech fans would have enjoyed the luxury of having halfway watchable college football over the span of the last decade, with some particularly good seasons along the way.
And the fact that with the departure of Frank Beamer, it really is kind of going to spell the end of an era, as well as a higher chance of difficulty in getting back to success.  Recruiting might become a little more difficult when Frank Beamer's name isn't involved in potential coaching, and barring the hiring of a fairly reputable replacement, it may become harder to draw some hotshot recruits over to the Hokies.  Either way, I don't think I'm going to be holding my breath for any ten-win seasons any time soon, not that I have been since the bullshit loss to Michigan in the Sugar Bowl a few years ago.
Sure, the season is not over yet, with (at least) one more game left, for the Commonwealth Cup against UVA.  It might not be a home game in Blacksburg, but given the propensity of Tech travel, and the fact that it's still within the state, there will undoubtedly be a massive warm reception for Frank in Charlottesville.
Yes, there's been a ton of rhetoric about how Tech owns UVA in football, but if there was ever a time when the magic would run out, this is probably the year.  UVA fought to the last minute last season, and neither team is really that much different this year.  There wouldn't be any more fitting way for Frank Beamer's career to end in the same manner in which has so often been the case – falling just short, of that magical 23rd straight year of bowl eligibility.
And even still, say Tech beats UVA, finishes 6-6, and is invited to like, the Popeyes Chicken Bowl or something, they'll inevitably get smashed by someone like Ball State or Bowling Green.  Because if there's one thing that's been consistent about Frank Beamer's bowl performance, is that he's always consistently lost most of them (10-12 actually, but still that's under .500).
Wrestling logic, wouldn't have it any other way, that no matter the prestige, no matter the accolades and the winning history, when the day is over, no one man is bigger than the business, and there's no better way to show the business respect, than to go out with your back on the mat.
Anyway, here's hoping for the best (two more wins), but kind of expecting the worst (demoralizing loss to UVA).  But that's often the case with most Virginia Tech fans.