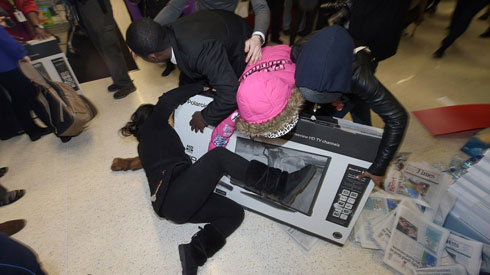 It's probably just me, because I have the penultimate first world problem in the fact that despite how much I look around my personal belongings, I have just about all the things that lots of people typically get themselves geared up for Black Friday for.  Television(s), game systems, laptops/computers, tablets and other miscellaneous electronic gizmos; these are all things that I've got already and/or don't really need to be replaced yet.
Men's fashion doesn't change so dramatically that I need to go out and replace all sorts of clothes, and for the most part, I dress fairly neutral, often times wearing things that are fairly timeless and/or devoid of any real time stamping.  Needless to say, I bought a few things here and there in terms of clothing, but nowhere near the hundreds of dollars I've spent over the last two years' Black Friday periods.
I had a few ideas for gifts for certain people, but they were all pretty cut and dry, and were not at all that difficult for me to acquire, so I haven't really had the necessity to get out in my car, go out somewhere, and risk fist fights in order to get the things I had in mind.
All of the above, combined with the fact that Black Friday shopping has once again encroached on yet earlier times this year, leading vigilant people like myself to gain access to deals earlier and earlier, has lead me to believe that Black Friday, as an entire concept is pretty much dying out.
Seriously, I slept in until 8 am this morning, as opposed to years in which I would strategically wake up at 3:30 am, and drive to the first place of a meticulously crafted gameplan of stores to hit, and targets to purchase.  After doing some non-shopping errands, I stumbled across a PetSmart, for a chance to see if I could get some cat litter, an indispensable consumable which cat-homes will always need; in previous years, I remember going into PetSmart for the same purpose, only to discover empty pallets and dazed employees, glazing over the hell of people storming the store, and buying every single 35 pound container of litter to stockpile.  I wasn't expecting to find any litter at all, but was instead shocked to discover essentially, a fully-stocked store, in which I was able to buy several containers, as much as I thought my car would hold.
In fact, between cats and my dog, I probably purchased more pet-related goods over myself or any other human beings.
The thing is, while driving around in the morning, there was an eerie sense of calm, all over roads in which in the past, I've seen full of SUVs of people marching their way to the malls and shopping centers scattered throughout Metro Atlanta.  I know there's a hangover period between like 9am-noon, in which the stores that have had their doorbusters are all sold out of the hot ticket items, and people have retreated back home, but this was more like a sense that people weren't even out at all.  Restaurants and Starbucks coffee shops were empty and calm, as opposed to the people who were getting their re-fueling done for round two of shopping day.
What this all felt like to me that perhaps the Black Friday bubble has completely burst, if this wasn't already the astute assessment from last year.  People like me are able to do a vast chunk of their shopping over the internet, up to a week in advance of Black Friday, and frankly I think people are willing to pay a little bit extra for the convenience of not having to partake in the insanity of doorbuster-hunting, and it's showing in the fact that at least in my observation, people just weren't going out.
I guess this is somewhat of a good thing for society as a whole, as this might possibly reduce the number of Black Friday related violent incidents, and frankly maybe people will actually spend time with their families on Thanksgivings.  But me being a person that's inherently reluctant to acknowledge change, this seems all too strange to me that at least for me, this particular Black Friday has been so calm.  Granted, it's yet for another year, different than how I've been doing them, but I can't help but have this almost melancholy feel about how the world might actually be changing in some fashion, at least in a commercial sense.
Perhaps there's a part of me that enjoyed having years of consumerist goals to attain, and the thrill of the hunt of finding the best deal, and making plays to try and get them.  Even if it meant getting up at 3 in the morning, and braving the cold and waiting in lines.  There was just something so gratifying about spending a fuckton of money on things that I might not ultimately need, but it just kind of felt good to get them.
If this year is any indication, then by next Thanksgiving, Black Friday deals will be available as of November 10, the doorbusters for actual Black Friday will be items that people will literally have to murder other human beings in order to acquire, and by 9 am, day after Thanksgiving, the basic plot of The Purge will occur, and people will kill the shit out of each other, and by noon calm will return to the world, as does full retail prices.  Regardless, I think the bubble has burst, and it's going to take capitalist America some re-tooling to figure out to cash in on a massive shopping event all over again.