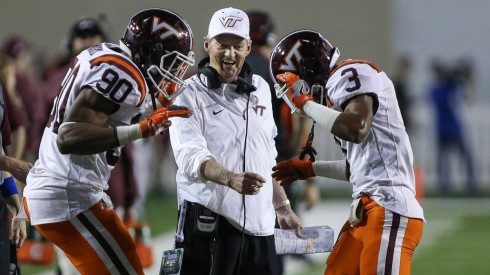 When Dadi Nicolas engulfed Tulsa's quarterback with a monster sack on 4th down and the game on the line, to effectively seal the game, I threw my head back and let out the mother of exhaling sighs.  Absolutely nothing would have been more disheartening than seeing Frank Beamer go out on a loss, especially to a school that I had to check Wikipedia to verify whether it was a Division I or II program (D-I).
But a win is a win, and much to mine, and every Virginia Tech fan's relief, Frank Beamer ends his legendary career, with a victory.  And just like that, the most illustrious chapter of Virginia Tech football comes to a close.
It was interesting watching Beamer on the sidelines throughout the fourth quarter of the Independence Bowl; at first, with the Hokies up fairly comfortably, there was a man watching with a deadpan look on his face, almost as if he were watching the clock tick down not just the seconds of the game, but his career.  When Tulsa scored a billion unanswered points to close the gap, the only change on Beamer's face looked like an expression of "oh shit, here we go again," with a small mix of "am I really going to go out like this?"  But even after Nicolas' sack put the nail in the coffin, and the game all but sealed, was a man who was not excited, but more melancholy and almost even a little scared at the sinking reality that the ride was coming to an end.
I'm pretty sure the ice bath was what finally snapped him out of his out-of-body state at that point.  But even then, he wasn't really smiling or laughing like he usually does when he gets dunked on, because I got the impression that ol' Frank was feeling what a lot of Tech fans were feeling – sad.
There are probably a lot of people like me, where Frank Beamer was the only coach we ever knew.  I'm not going to pretend like I've been a college football fan all my life, but for as long as I've embraced and begun to enjoy the college ranks, even I've been aware of the luxury that lots of college football fans don't get, where our team has a coach that doesn't get fired or runs away every few years.  Frank coached the Hokies for 29 years, so like I said, he's pretty much the only coach that a lot of Tech fans have ever known, and it's sad to see him go, and it's going to be a little weird seeing someone else at the helm starting next season.
Without Frank Beamer, there's really no Virginia Tech football, and personally, without Tech, there's no development, growth and overall embracing and enjoyment of college football for me.  Frank gave me a team that I could stand behind while living in the heart of college football territory, and a horse that I could pull for whenever Tech was so often fed to SEC wolves, but gave me immense satisfaction when they defeated Tennessee in 2009.
My fondest memory of Beamerball was in 2007, when Tech was playing Boston College for the ACC Championship, when Matt Ryan led BC to a touchdown, only for the extra point to be not just blocked, but returned the other way for a defensive two-point conversion.  I'm not entirely sure, but I think there's a possibility that that particular instance was the last time such an occurrence has actually happened in the college ranks.  As rare as Beamerball was to actually see happen, it's still among the greatest things to see happen, college or pro.
Anyway, even though the 2015 season was kind of a bummer for Tech fans, it was still great to see the team hang tough enough to beat Georgia Tech, beat UVA, keep Beamer's Bowl streak alive, see Frank ride off into the sunset with victories.
So long Frank, and thanks for all the memories.  Especially of you dancing in victory.