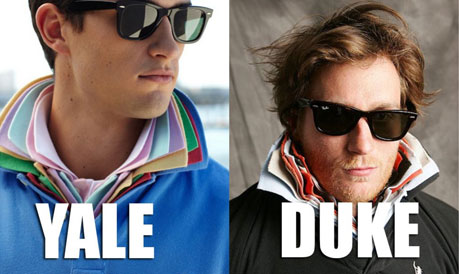 It's always easy to say, looking in hindsight, "I almost picked them…" when it comes to progressively watching your March Madness collapse before your very eyes.  But seriously, when I looked at the matchup between a #5 Baylor and a #12 Yale, I thought hmmmmmmmm.
Historically, you can almost bank on at least one #12 taking out a #5 on a yearly basis, and at least personally, I usually pick one #12 to topple a #5.  And in all fairness, I did get it right, with #12 Little Rock, Arkansas upsetting #5 Purdue in Southeast.  Little did I realize that this would be a year in which two #12 seeds would upset a #5 seed.
Little did I also realize that Michigan State would blow it in the first round of the tournament, and completely derail my entire bracket, as I actually had Michigan State going all the way.
But you know what, I ain't even mad.  I can't say I paid more than a passing interest in the way the college season has transpired aside from the hilariously double-standard racism expressed in articles about Duke's Grayson Allen.
Anyway, back to the point at hand, in an attempt to remain somewhat topical to the current date, tomorrow afternoon, we have a matchup that I'm giddy to even just say: Yale versus Duke.
Just saying those words makes me feel like I need to hop into my Prius and rush over to Hollister, and get some pink polo shirts and pre-distressed cargo shorts.
But what we have here is something that I've kind of wanted to see in college sports in quite a while; a matchup between two, historically white, pretentious, preppy and arrogant schools, in a contest of actual men's athletics.
I was denied in the football arena when the bowl committee failed to pit Duke against Stanford, but little did I realize that the Gods of March would be that much kinder when they decided to create a scenario in which Yale would match up against Duke.
In Providence, Rhode Island, no less, which is pretty much the whitest state in the United States.
I'm not the only person to have noticed just how snow lily white Saturday afternoon is looking to be, as plenty of white guilters have decided that they're comics, and have wasted little time getting on Twitter to vomit out their best material.  I went on Facebook and took the route that I heard the match up and figured it was either in debate team, badminton, lacrosse, or quiddich.
The bottom line is that tomorrow afternoon is a rare instance where Duke will be playing against a school, that's actually more revered and higher regarded than themselves.  It doesn't happen when an Ivy League school actually gets good enough at real sports, but it's even more rare when they happen to actually run into a school very well known to be very envious of their reputation in the academic world.
Yale versus Duke.  Just saying it again makes me want to take up crew, cut all the gluten from my diet and go shop at a co-op.
I kind of want to watch the game, but honestly I can't particularly see myself exerting the effort to actually catch it on television.  This is where I'd say that it doesn't matter who wins, but that's entirely false, because it doesn't matter who's playing Duke, the answer is that you want them to win.  It doesn't matter if it's Mussolini or the actual Devil against the Blue Devils, it's pretty much anyone but Duke, as far as I'm concerned.
Go Yale!  I'll indulge in some low-fat no-whip soy mocha caucasianchino on Sunday morning if they help Duke what they do best, get bounced out of the tournament.