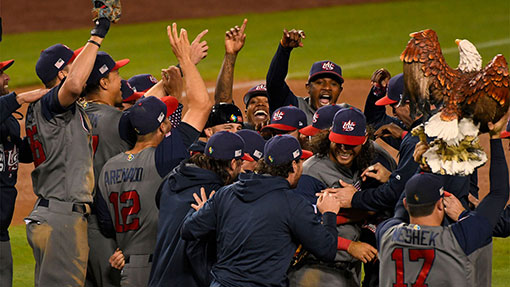 It's only taken four tries in the last 12 years, but the United States of America has finally won the World Baseball Classic, the tournament that they invented in the sport that they invented, when they shut down Puerto Rico in the championship game.
And it's about god damn time, is all I can really say about the long overdue international accolade.  Seriously, when the WBC was debuted back in 2006, it seemed like that on paper, the United States should cruise to a victory in a tournament that they debuted, with maybe some resistance against an also stacked Dominican Republic team.  Instead, teams like Japan, South Korea and Cuba showed up to play and have fared well in the tournament's short history, with Japan winning the first two WBCs before the Dominican Republic finally played to their potential and won the third; all while the USA repeatedly failed and fell flat on their faces, fielding squads of primarily B-talent, because the A-listers refused participation, fearing risk of injury and subsequently to their earning potential.
Honestly, going into this year's WBC, I thought that the United States were sending yet another mish-mashed rag-tag slop pile of a roster to the wolves, with a pitching staff full of 2-3 starters, and a bunch of set-up men with no truly dominant closer.  The players that were committed to the cause weren't bad players necessarily, but there's a notably long list of superstars that could've played for the United States, that opted to not.
Well fuck those guys.  They weren't needed for this first WBC championship; nor will they ever be remotely close to being associated with this American squad that finally brought home some international gold.  In spite of my repeated doubts that this team couldn't cut it, in spite of the monumental number of strikeouts the batters piled up against Japan and Puerto Rico, this USA squad resisted, they weathered, and they prevailed.  Finally.
Honestly, it couldn't have been a better path to victory than vanquishing both Japan and Puerto Rico, two squads that sent the United States packing in prior WBCs.  Never would I have wagered that Tanner Roark and Marcus Stroman would be the two starting pitchers that slayed the demons when guys like Roy Oswalt and R.A. Dickey have tried and failed in the past.  Guys like Derek Jeter and Chipper Jones have headlined prior American squads that fell short, while a squad whose most noteworthy players were Andrew McCutchen and Giancarlo Stanton won it all, while not-as-quite-household names like Ian Kinsler and Eric Hosmer were easily the best players on the team.
Baseball is funny like that, because really doesn't matter who is on your team, who is on the opposing team, and where you're playing.  As long as all the moving parts are clicking and working harmoniously, a team lacking superstar power can shut down a team stacked with marquee names, while playing on home soil with a crowd vastly majority in favor of the other team, can prevail on any given day.
It's taken a little bit of time, but it's nice to finally see the United States finally bring home a WBC trophy, after all these years.  And I'm pretty satisfied that it was with this particular roster, because a team stacked with megastars winning it all, just doesn't seem as gratifying.  And with this title under the belt, the monkey is off America's back, and whether or not they win again in four years is irrelevant, a little bit of championship equity is built up, and it's not going to matter as much for a little while.