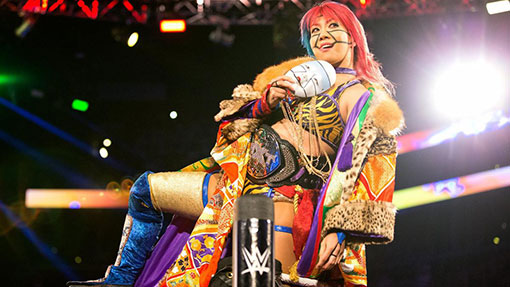 Ever since I've started watching NXT with some regularity, I feel like I jumped aboard during a pretty stale period.  Guys like Shinsuke Nakamura, Finn Balor and Samoa Joe have all left at pretty much the same time, and in their place has been a main-event pool of guys that I'm not remotely interested in, such as Bobby Roode, Roderick Strong and Hideo Itami; aside from Roode's arrogance, there's literally no intrigue, personality or narrative that anybody brings to the table, creating stories that are hard to get vested in.
As much as I disliked the name "#DIY," the talent of Johnny Gargano and Tomasso Ciampa shined through, but now they've been broken up and taken off television for the time being, and taking their place in the tag team division are a bunch of mammoth hosses like the Authors of Pain and Heavy Machinery, who will undoubtedly have a stinker of a program when they inevitably collide for the belts.
But if there's been one thing worth tuning into recently, it's NXT's women's champion, Asuka.  Week in and week out, she's the brightest star in all of NXT, and it's going to be a dark time for the brand's women's division once she gets the demotion to the main roster.  She's undefeated, and WWE's even gone as far as to declare that she's surpassed Bill Goldberg's old WCW record of 163 wins before first defeat, and given NXT's women's talent pool it doesn't seem likely that it's going to end that soon, especially with her most recent victory over Nikki Cross in a Last Woman Standing match.
Asuka has demonstrated a tremendous amount of depth in both persona and as a performer, as she's demonstrated capabilities of hanging with more technically adept women like Bayley and Mickie James, and the ability to outright brawl with a slogger like Nikki Cross.  She showed a hint of heel against Ember Moon, but the fans will probably respect her too much to do anything but cheer for her after the outstanding Last Woman Match where she took some pretty impressive bumps in her well sold performance.
Without a question, Asuka is the brightest spot in NXT, and she's really the only thing worth watching at the moment while other storylines are still in incubation.  For obvious reasons, things tend to move a little slow in NXT, and this could very well be a formula of the product, which may very well be an extended focus on one division at a time, since they only operate a weekly hour.  But given the alternative from Asuka being fairly uninspired and uninteresting talent like Velveteen Dream, Sanity and Kassius Ohno among other Performance Center greenery, the farm system is running a little depleted these days.
Again, it's going to be a really bad time for NXT when the time comes for them to dethrone Asuka so that she can soak in the brighter lights of the main roster, but frankly I'd rather not see her ever lose, because as long as NXT is one of the only things I can really watch outside of PPVs, I'm hoping she double's Goldberg's record and never has to do the job.