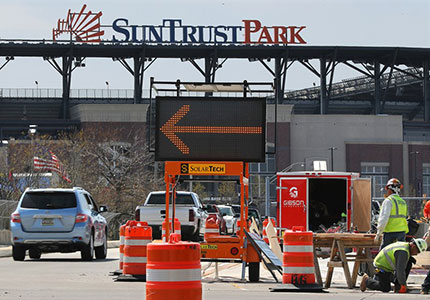 Apparently, traffic expectations for SunTrust Park are not as bad as expected when the Braves are playing home games.
This shouldn't be a surprise when the Braves are about to finish off a dreadful season in which they'll be at least 10-11 games under .500 and whose third-place ranking in the division is solely on account of being in the worst division in baseball.  They played 37-44 at ScumTrust, which says fans had a better chance of seeing an L every time they stepped foot onto the new ballpark.
Also, Atlanta sports fans are fickle and fair-weathered and only show up to games when the teams are actually winning.  Since the Braves are a bad team this year, it should come as no surprise that traffic is not terrible, because people aren't really going to that many games, especially once the honeymoon period of new ballpark ended, leaving only a below-average team playing in ballpark built with dirty money.
I'd say that this study should be conducted again the next time the Braves have a contending team, because if the day ever comes that the Braves have a 90-win team, fans will come out in droves to be where the good team plays, hoping to be a part of a scene.
Or, they should look no further than when Metallica played at ScumTrust, where the aftermath of the parking lot debacle wasn't really made public since nobody wanted to piss on the afterglow of what was apparently a killer show, but it was a pretty dreadful experience.
Needless to say, this is a horseshit story that obviously doesn't grasp the correlation between traffic and successful teams – if the Braves ever get good at baseball again, there will undoubtedly be an increase in traffic, and on those days, people will wish that ScumTrust didn't exist anymore as much as I do.