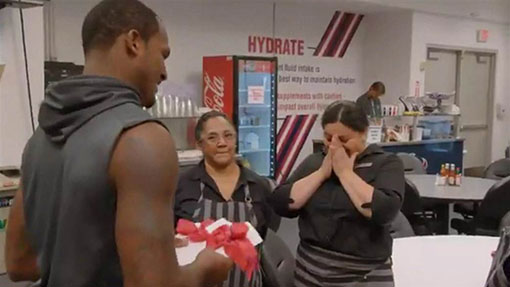 Good people just get it: Texans rookie quarterback, Deshaun Watson donates his first NFL paycheck to NRG Stadium workers affected by the flooding of Hurricane Harvey
Seems fitting to talk about this since we're on the eve of the biggest college football game of the season for me, when #12 Virginia Tech hosts #2 Clemson, where it just might be a good game, but nobody on the planet can defeat Clemson, so it'll be the that game where Tech stumbles and falls far in the rankings before dropping out outright by season's end.
But in spite of my general disdain for Clemson, and how they have owned Virginia Tech for the last five years, I have to confess that I'm a Deshaun Watson fan.
At first, I hated the guy for being so good and just so far beyond everyone else on the field, and thanks to his talent, Clemson's success never wavered while he was at the helm.  I rooted for any team to beat him; NC State, Boston College, Auburn, Alabama, and even teams that I really don't care for, like Georgia Tech and even fucking Florida State.  But that's just how much I wanted to see Clemson knocked down, because if they didn't take some losses, they were always a threat to the National Championship, and they were about the last team I wanted to see winning one.
Needless to say, it turned into one of those situations where because I disliked a team so much, I ended up tuning into an inordinate amount of Clemson football throughout the last few years, hoping, hoping to see them lose.  And despite two satisfying losses to Alabama in the 2016 National Championship and one completely out-of-the-blue shocker against Pittsburgh, way more often than naught, I watched Clemson win the vast majority of their games, almost entirely by the force of will of Deshaun Watson. 
He always converted the key down, whether it was the million times he connected with Hunter Renfrow, or scrambled his way to a first down; it was crystal clear that he was playing the game on a level that nobody else was on, and eventually my frustration with seeing him defy my wants kind of gave way to an awe-inspired respect that basically expected him to succeed in the game, because that's all he seemed capable of doing.
Even in the 2016 ACC Championship where Watson defeated Virginia Tech in a heartbreaker for me, I couldn't help but be feel like this was the expected outcome, because Virginia Tech kind of won a weak division and was still in a regrowth phase, while Watson and Clemson were jilted runners-up for the previous National Championship and were out for blood this year.  Despite the fact that they had a playoff game against THE Ohio State waiting for them, after this win, I kind of already knew that they were going to win the National Championship, because it was Watson's last ride, and there didn't seem any alternative outcome to him going out on top.
But now that he's graduated from Clemson and now in the NFL, I can say that it's safe for me to be an actual fan of Deshaun Watson now, and it's really, really easy to do when you hear of stories of him doing stuff like donating his first NFL paycheck to those who could use it.  And sure, it's easy to accuse him of being an NFL millionaire, which is bound to happen someday, but it should be noted that as a rookie, excluding whatever signing bonus he got when he was drafted, has a base salary of $465k, which sure is way more than what most doctors and educators make, but consider like Matthew Stafford who will basically be making $1M per game, who isn't donating anything to anyone currently.
Anyway, this story is great news in an NFL that's in desperate need of some news that isn't considered terms like "polarizing," "divisive," or has anything to do with race, religion, beliefs or politics.  It's just a simple story of a good person, doing good things for people who could use the help.  Regardless of who's standing or who's kneeling in the upcoming weeks of football and all other public events where anthems are played, I just hope for the best for a guy like Deshaun Watson, and I hope that he becomes the legend in the pros like he was the legend at the college ranks.
However, as unlikely as it is, I still want Tech to beat the shit out of Clemson this weekend.