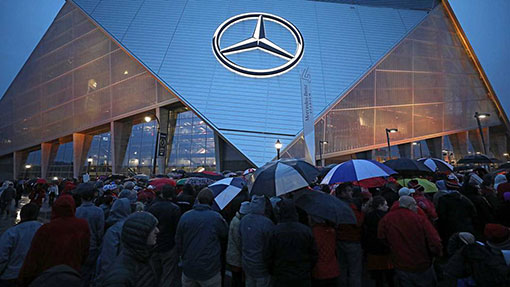 Despite the fact that it ended up being an epic game, I'm glad I didn't go to the National Championship.  One, it was simply too fucking expensive.  Two, with the president coming in for it, it would undoubtedly become a bigger shit show than it normally would have been.  And three, I simply fucking hate crowds.
Don't get me wrong, I still tried to get tickets from a company give away, but with hopes of winning them, and flipping them for thousands of dollars, to which I could use to spend on some actual home improvements, that's how much they would've commanded.  But I had zero intention or interest of going to the National Championship despite the fact that it featured the hometown Georgia Bulldogs and was being played in the heart of College Football Mecca, here in Atlanta.
Crowds.  Fuck that.  I absolutely loathe crowds.  I've been to two Wrestlemanias and have zero desire to go to another.  I've been to Falcons games and Braves games, and I have little motivation to go to many more without good reason.  It's a miracle I still bother attending Dragon*Con and it's nearly 70,000 attendees every year, although afterwards every time I go through a spell of saying I don't want to do it again.
But the National Championship game?  Short of Virginia Tech being in it, I can't say that I'd want to go to one, even if it were literally within walking distance.  Articles like this one justify all of the reasons why going would have been a terrible idea; from MARTA shitting the bed like expected at the extremely high volumes of attendees, from the presence of the president and the Secret Service adding 50 layers of security to an already abysmal situation, forcing people to wait literally hours outside in the dreary rainy conditions.  Without question, I my day would've been ruined before even getting to my seat, which for many didn't happen until the game had already kicked off.
Even those who thought they could outsmart the system and utilize the Atlanta Streetcar to avoid the worst congested parts surrounding the stadium, were rudely awakened, when it turned out that the Streetcar just decided to not run at all, on a night where 125,000 people were expected to be in a one square mile radius.  This would've bit me hard, because I probably would have had the same line of thinking, to park remotely and use an underutilized service like the Streetcar to get to the vicinity.  Just another reason why the comfort of my own home, projector and the RealESPNPlayer app was the better idea.
Seeing the president get booed out of the building or a college football game that ranks somewhere within the legendary wouldn't have made it worth the trouble.  Despite the fact that I would've liked being right about picking Alabama, it wouldn't have been worth seeing my heart's choice in Georgia lose in such a gut-wrenching, shocking manner.  And then be forced to deal with the mass of humanity all trying to leave the Benz at the exact same time afterwards?  Yeah no, fuck that noise, fuck all of it.
Atlanta might have staged a coup in acquiring the National Championship for 2018, but it's kind of an appropriate metaphor that they got it, were great at promoting it, but when it came time to actually flex the infrastructure to operate the whole event, they simply fall short.  It's just like UGA and all other teams from Georgia, carrying on such an ironic and unflattering tradition.