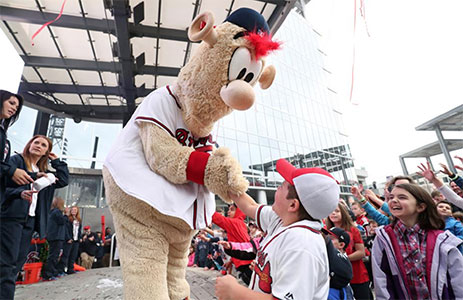 So, to recap what kind of off-season it's been for the Braves between the 2017 and 2018 seasons:
Needless to say, it's been a pretty typical crappy offseason for the Braves this year.  It's hard to say that things could possibly get any worse, but whenever anyone decides to tempt fate by saying that things couldn't get any worse, inevitably they just have to.
Introducing Blooper, the new mascot of the Atlanta Braves.  What is Blooper?  Nobody really knows.  Apparently, he came from the "Character Builder 3000" and is a pretty good metaphor for the organization itself: uncreative, stagnant and nowhere remotely near innovative.
All anyone does know is that Blooper is like a Caucasian, less fat imitation of the Phillie Phanatic, of the division rival Philadelphia Phillies, which is extremely sad that the Braves are basically copying the Phillies.  Aside from when the Phillies won the World Series in 2008, nobody should want to copy the Phillies – they suck, their city sucks, and everything remotely associated with Philadelphia sucks.
It's also telling that his name is "Blooper," which is a nickname for a weak base hit, often a single, and usually relying on a lot of luck, bad defense and weather to be involved.  They don't happen often, and they usually happen against the Braves since they traded away Andrelton Simmons, and they don't hit a whole lot of them because the team hasn't had any batting talent since . . . they traded away Andrelton Simmons.
It's a far cry from when they had a mascot named "Homer" which is obviously a phrase to describe home runs, among the most exciting moments in baseball, and there was once a time when the Braves had teams that hit tons of home runs in the past, but those were long times ago at this point.
But speaking of Homer, it can't really be that much of a surprise that Blooper looks like someone else's mascot; after all, Homer himself was basically a rip-off of Mr. Met., of the New York Mets.  I guess the Braves got tired of Homer being accused of being a Mr. Met clone, so they decided to go rip off another team instead.
I guess it's only a matter of time before Blooper gets accused of being a clone of the Phillie Phanatic, and then the team decides that they need to head back to the drawing board.  And someone will get the great idea that instead of a singular mascot, why not go with, oh, say, four mascots?  And they can run in a race in between innings as an innovative and never-thought-of-before entertainment segment!  And because the Braves need to fuck everything up, why not make them as offensive as possible, so they'll be giant caricatures of Native Americans, or as they're whimsically called, "Injuns!"
And then maybe when those mascots fail, the Miami Marlins will have something worth copying, because I'm pretty sure Billy the Marlin was liquidated in the fire sale of the team as well as everything else.
But regardless of all the snark, Blooper is here, and he's here to stay for the unforeseen future.  Because just when I thought the Braves couldn't make any more stupid decisions, they just have to keep opening the bag that keeps on giving . . . failures.  I guess all we can hope for is that the Phillies sue the Braves or something, which is pretty much a win-win for them; either they sue the team and win a layup of copyright infringement, or they don't sue, and the Phillies can eternally mock the Braves for having to resort to copying their mascot.  At this point, I don't even care anymore, because the Braves just can't stop tripping over themselves to be taken seriously for a long while.