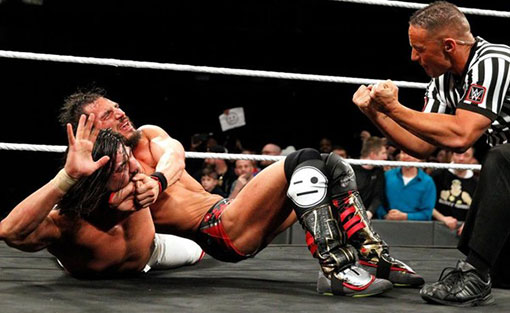 It doesn't happen that often, but it turned out that I had an entire weekend free to watch all of the wrestling available for the Royal Rumble weekend.  Weather derailed my hopes of breaking in my new grill with its maiden meats, and all I really wanted to do alternatively was absolutely jack shit other than watching NXT Takeover: Philadelphia and the Royal Rumble.
Surprising no longtime fan or wrestling smark, NXT Takeover was the true gem of the weekend, as just about every single match on the card was pretty good, and I can't help but wonder what goes through the mind of Vince McMahon sometimes knowing that both his daughter and his son-in-law are basically openly declaring war on his own product with their own personal projects in the women's evolution and NXT.
Since NXT developed and turned into the officially televised developmental product and started putting on shows since Arrival, they have pretty routinely outperformed the main roster, and just about every single Takeover event has outshined the primary shows that they're supposed to be the lowly undercard for.
Superstars are given the time and leeway to properly build up their characters, let feuds develop, and are given the latitude and clock in matches to put on actual good matches.  This was no more prevalent than at the last Takeover, where just about every single match on the card had some degree of development behind it, and wasn't just some fly-by-booking where opponents are pitted against one another without reason.
Fish and O'Reilly aka reDRagon to the smarks, carried the Authors of Pain to a halfway decent match involving two WWE-raised oafs, while Aleister Black and the surprisingly competent Velveteen Dream are two true WWE products that have been fairly reliable for watchable matches, even when the latter had to work with a grossly out of shape Chris Hero.
But the two championship matches of the night were rightfully able to carry the entire show, as Ember Moon and Shayna Baszler had a match better than I expected, and Johnny Gargano and Andrade "Cien" Almas tore the house down which I'll get to in a sec.
I'm not sold on Baszler the wrestler, but there's no denying that she's got the chops to do this as a living.  She's physically intimidating, and I'd bet money that she could legitimately beat the shit out of the entire 205 Live roster if she ever wanted to, but she's still green as Lex Luger in the ring, and is only capable of being a tough heel currently, as her ability to sell and be on the receiving end needs a lot of work.  But the match played to her strengths well, and the extended arm-bar spot legitimately got my smark ass scooting to the edge of my seat as after the third escape counter, I thought Ember Moon might actually tap, since the story of the match was leading to it.  The length of the arm bar plus the roll up finish were pure late-80s/early-90s booking, but what's old is new again, and it was a great finish to a decent match that successfully laid the groundwork down for the continuation of the feud, and an eventual Baszler run with the belt.
If you're remotely into wrestling, this likely won't be the only place where you'll see the opinion on this, but the Johnny Gargano vs. Andrade "Cien" Almas was easily a match-of-the-year contender, despite the fact that it's still just January.  Most just-WWE fans probably don't know their backgrounds, but Gargano and Cien both had extensive careers in independents/Japan prior to their WWE existences, and it's really no surprise that they had as good of a match as they did, but more of a surprise that the WWE actually let them.
Gargano/Cien was a beautiful masterpiece that was fantastic from start to finish, with technical chain wrestling to start the match, to a non-stop ride that had few breaks, and was a testament to the physical conditioning of both competitors.  The match was given plenty of time to build up drama of near falls and interventions from both Zelina Vegas and Candice LeRae, and both wrestlers got to execute all of their signature spots as well as busting out some moves rarely seen in their WWE days.
Although I figured Gargano was a shoe-in to win the title, because Cien hadn't really been given much of a chance to be a champion, and I figured a nice babyface like Johnny Wrestling would be the perfect guy to transition the title to Adam Cole or whatever heel they need to carry the belt, I wasn't the least bit disappointed that Cien got the victory.  After all, this is a guy who in Japan beat the vaunted Shinsuke Nakamura at one point for the IWGP Intercontinental title, but the WWE for some reason has always felt the need to suppress his talent until now.
But with the win, I feel that Cien's stock has shot through the roof, and he's finally been given the spotlight that he's always been capable of holding, and the match was the best match I've seen under a WWE umbrella in a long time.
Needless to say, the actual Royal Rumble show paled in comparison to Takeover, but it's not to say that it wasn't without its good moments, albeit predictable, as main roster programming goes.  Despite the immense talent from all involved participants, the AJ Styles vs. Kevin Owens and Sami Zayn feud is tired and I'm hoping that this is the last of it for the time being.  Owens is still a top-tier talent, and the booking has somehow managed to make the WWE champion the afterthought to the seemingly endless arc of Owens vs. Shane with the perpetual hinting of a Daniel Bryan evil GM turn, but if there's one thing the main roster is reliably good at doing, it's messing up should-be great matches.
Usos vs. Gable and Benjamin could have been a better match, but everyone knows that WWE operates under strict clocks, and in spite of the time it took to get one fall in a best-of-three, it was fairly predictable that the deciding fall(s) would come much, much faster.  Which is a shame for me, because Chad Gable has been growing on me, and I would've liked to have seen more twice-rolled German suplexes from him.
The men's Royal Rumble has become too formulaic over the last few years, and it's way too easy for even the most casual fans to know which entrants are the filler and jobbers, and which ones are probably going to be put in position to be among the last competitors.  Numbers 1 and 2 are always workhorses capable of carrying for 30+ minutes, number 27-30 are main eventers, there will always be a few nostalgia acts, a few NXT stalwarts, and one or two returning wrestlers for shock value.  Rey Mysterio still looks fantastic in spite of his time away from the WWE, whereas The Hurricane did not, and was immediately made target for Corey Graves' fat-shaming.  Dolph Ziggler's walkout lasted all of a month and was essentially for nothing since he forefeited the US title, only to return presumably to put himself into the World championship picture, only to fail, resulting in a zero-sum booking.
But I am a little surprised, but still pleased that Shinsuke Nakamura was given the opportunity to win the whole thing, because I would have bet money that Roman Reigns was going to win to set up the Reigns vs. Lesnar match that could very well still happen, so that Brock can alleviate himself of the belt and go back into hibernation until his next run with the company.  However, once the Rumble itself started to play off in an old guard vs. new guard conflict, I began to think that Reigns or Cena wasn't going to win, and that maybe actually for once, someone the fans actually liked would get a chance, between Nakamura and Finn Balór.
Needless to say, Shinsuke Nakamura vs. AJ Styles has the potential to be another match-of-the-year candidate, if the WWE actually lets it happen, because if their matches in New Japan were any indication, they certainly have the capability to make the entire show theirs.  Somehow, I wouldn't bet money on it, but if it's going to happen anywhere on the main roster, it will be at Wrestlemania.
RAW tag team championship match was lame.  Not entirely its own fault, but it's hard to come down from the drama and excitement of Nakamura's win, to an immediate match between two WWE-neutered uber-talents in Seth Rollins and Cesaro teamed with the lead-weight Sheamus and despite the ironic enjoyment of his character, Jason Jordan is still greener than baby shit.  Barely remembered the titles changed hands.
Brock vs. Braun vs. Kane was about as predictable as they come, with Kane being in the match to do the job, so that Brock vs. Braun #3(? 5?) can be preserved, presumably and hopefully for one of the shows before Wrestlemania, because pitting them together for Wrestlemania would be a tremendous mistake.  Shitty match
Justifiably so, the women's Royal Rumble was the main event of the show, since it was the first one ever, and therefore had fewer predictable memes that plague the men's Rumble.  However, by putting it last, it also fed into the speculation of the arrival of Ronda Rousey, since she would most certainly be on that 1998 Mike Tyson-level of mainstream hype that the WWE so desperately craves.
If there was none of the rumors about Rousey, I would've said that the Rumble was Asuka's to lose, but because of it, I figured that Rousey would be the shocking entrant at #30, win the Rumble and set up a program with Charlotte Flair.
Needless to say, this smark was outsmarked when Rousey didn't show up in the Rumble, and I was pleased to see Asuka win Rumble as she very well should have, and I couldn't help but feel really happy for the two Japanese imports that both won their respective Rumbles and will have prominent spots on the Wrestlemania card.
But I was less than pleased when Asuka's celebration was cut short, by the arrival of Ronda Rousey after all, because nothing says WWE like shitting on the celebration of one of the cornerstone superstars for the hype and adulation of someone who will probably be a celebrity tourist for Wrestlemania purposes.  Sure, Rousey is pretty, she's a legitimate tough human being, she's probably capable of making professional wrestling a long-term career, but I don't think she will.  All I know is that she'll probably be living in Orlando to learn how to do pro wrestling, which isn't so much about looking like a destroyer, but more important on how to look convincing when getting destroyed.
I feel that she's in WWE to do a program with Charlotte, possibly the other Horsewomen, along with her own stable including Shayna Baszler, but won't be around for more than a year, and under a contracted schedule as cush as Brock Lesnar's.  And those circumstances aren't warranting for her to interrupt Asuka's rise, especially when it could just as easily be done on RAW instead.
Whatever though; I wouldn't have this much to say about all this shit if I didn't actually have the time to indulge in all of this shit.  I'm grateful to have had the opportunity to soak it all in, and feel like a wrestling fan again, and I'm still very satisfied at having seen Gargano/Cien, and the big wins for Nakamura and Asuka.
Let the signing pointing road to Wrestlemania begin, full of criticisms and smarkiness.