It's busy season at work.  Life itself has been pretty busy too.  Ironically, as busy life has been transpiring, things have been happening all around that have made me feel like writing, but I simply haven't really had any time to sit down and do any writing.  There's no downtime at work for me to slop together some words, and by the time I get home, I'm usually burnt out and not wanting to look at any screen other than my phone for my routine-like playing of Fire Emblem: Heroes.
Typically, whenever things seem brog-worthy, I jot down a quick blurb or note in a Google document for me to revisit whenever I have more time to write about them.  However, due to the busy, I simply haven't had the time to revisit anything, but the list continued to grow and grow, leaving me feeling anxious about the passage of time to brogging dynamic that I've been feeling has been slipping out of my grasp lately.
So now that for the first time, I've found that I have a moment to do some writing, I thought I'd save myself as well as my 0 readers the trouble of doing a little consolidation, so that I don't feel like I should be dumping 1,000 words per topic, but instead go for some quick hits that I'll do my best to get the point across while covering all of the topics that have piqued my interest over the last week and change. 
This makes even more sense, considering that this particular conglomeration of topics all conveniently happen to be sports related, and since pretty much nobody I know except for me actually cares about sports, it's a win-win for me, that I get to do some writing, and for the zero who will inevitably glaze over this when it's eventually published for realsies.
And so we start off with the most notable of events, with the boys in Blacksburg, Virginia Tech taking down yet another ranked ACC powerhouse in men's basketball, defeating the unholy and reviled #5 Duke.
For those keeping track, this marks the fourth ranked ACC opponent that Tech has defeated this year, with wins against (at the times) #10 North Carolina, #15 Clemson, #2 Virginia.  Now as much as I would much, much, much rather see a football season in which the Hokes took down Clemson, UVA, UNC and Duke, I'm genuinely pleased with the basketball program which has pretty much guaranteed a spot in the NCAA Tournament; where they will get likely get bounced in the first round, but making it to the dance is always important.
But back to the main story, Virginia Tech taking down Duke is a big deal, since Duke sucks, and not just because it was Tech that took them down, but just about everyone on the planet save for the majority of Duke alumni take tremendous pleasure from seeing Duke lose.  Naturally, there is also a correlation between Duke losses and when Grayson Allen continues to try and trip opponents.
**
Speaking of Duke, apparently it's become news that there's some sort of NCAA scandal involving student athletes getting compensation, and have been for years, nay decades.  And Duke is just one of many teams named in the probe, which isn't the least bit surprising, considering how many people have gone on record and mentioned the poorly veiled perks for touted prospects to choose Duke, like their parents miraculously getting gainful employment from inconspicuous companies in Durham that happen to be owned/operated by Duke alum.
But really, I'm not entirely sure why this is news now, considering it's about as surprising as finding out Iceman was gay that star players got all sorts of compensation from their respective institutions or the agents lying in the wings.
Ultimately, maybe a few championships might be vacated, or some players from way back now will get some slaps on the wrist.  But nothing major is going to come out of this, and within just a few years, all involved teams in this probe will be back to the same old tricks, and this will all blow over.  I mean look at Penn State; they had dudes fucking boys, and just the last two years, that topic is an afterthought compared to their bowl eligibility.  College basketball will be just fine.
**
So the Olympics have come and gone, and initially the only thing I really cared about was the fact that it was taking place in Pyeongchang, South Korea, which is actually one of the places I visited briefly during my visit to the Motherland with my mother two years ago.  My mom and I actually stood at the bottom of the long jump, minus all of the snow that was there throughout the last two weeks as the supposed best in the world were going airborne all over the place.
And I say the supposed best in the world, because I couldn't help but notice that more than ever in this particular Winter Games, an eyebrow-scrunching number of participants from countries that don't, well, have winters.  Don't get me wrong, I'm completely all for Nigerian bobsledders, Brazilian snowboarders, Tongan cross-country skiers, and alpine skiers from the Philippines, Mexico, Kenya, but I can't help but wonder just how many world-class athletes are sitting at home during the Olympics because the Olympic committee seems more concerned about representation over what the Olympics was originally started for: competition among the best in the world.
This article from the Chicago Tribune captured my thoughts exactly, pointing out the subpar performances from particular Olympians who seemed to have made it into the Olympics more on the birthrights of their parents and/or the easier path to represent an obscure country instead of a winter powerhouse like Norway, Canada, or France.  Like I said, I'd be stoked to have seen a Nigerian bobsled team capture gold, or a Tongan cross-country skier made the podium; but as reality came to fruition, neither particularly exceled in their sport of choice, and it became competitions to solely not place last.
Not exactly the Olympic mentality we should all be hoping to witness in spectator sport.
**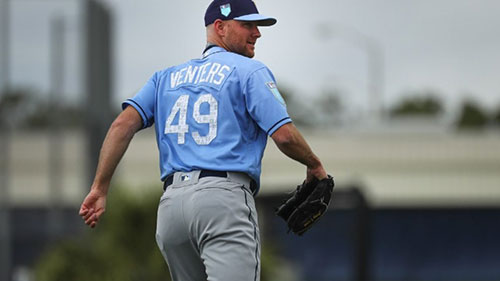 Spring Training has begun for Major League Baseball, and the one thing I'm most excited for isn't more corporate fuckups by the Atlanta Braves, but actually someone who used to play for the Braves.
Jonny Venters, my favorite pitcher, whom I've written about numerous times in the past, is the comeback story that just won't quit, as my man Jonny is that ballplayer that just won't quit.  Three Tommy John surgeries, and yet a fourth elbow injury later, he's still on the path to redemption, and once again the Tampa Bay Rays have taken another flier on Venters, and so far, it appears that 2018 just might be the season that sees the return of Jonny Venters to a major league baseball mound.
I feel like if he has a decent spring, but the Rays don't immediately bring him along on the big league roster and instead stash him in the minors to regain strength and velocity, I should make an effort to go see him live in the event that he's put onto the Durham Bulls and they have a road series against the Gwinnett Braves Stripers.  I entertained the idea last season when he was briefly on the Montgomery Biscuits, but it turns out that he was there far too short for me to have made it down to Alabama to catch a game.
Either way, more than anything, I'm hoping to see Jonny Venters make it back up, and it would be the utmost pleasure to see him have a nice 1-2-3 inning against any other team in the AL East, and have a great comeback season.
**
Finally, we have this one story that's a little older, but I literally haven't had the time to revisit it until now – but the Cleveland Indians are finally putting the Chief Wahoo mascot on death row now, and 2018 marks the final season in which he will be an official mascot of the franchise.
I know I've written in the past about how dumb that I think this idea is, and how it's just a caricature, and I still stand by my accusations that I think the world is getting a little too soft and PC, but the truth of the matter is that in this particular matter, I don't have a say in it, as I am not of Native American descent; there's a snide remark that frankly neither are all the people who claim to be like 1/64th some Native American tribe who have been the torchbearers for these anti-Native American mascot movements here, but I won't really articulate it further.
All I know is that I still think that a block letter C as a team insignia is a complete 180 from offensive to offensively boring, and that I hope the franchise does something remotely a little more creative in 2019 and beyond with the team's identity.  And that I really feel the need to secure a Chief Wahoo baseball cap before they become egregiously expensive relics.
I didn't think this would ever happen, given the sheer amount of lasting power of teams like the Indians, Redskins and the Braves; but then again, times are a changin' and what's old is inevitably now offensive, and people simply look for reasons to get offended about things.
**
Well, that just about does it and catches me up with a myriad of sports-related things that I had planned on writing about.  I feel a little bit better, but believe you me, I know I could easily have waxed poetic a thousand-plus words on any one of these topics, but frankly at this point, during a busy time in my life, it's better to have a little words versus none.