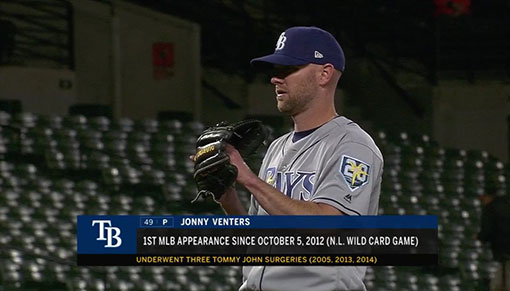 As the 2018 baseball season began to take shape, I had earmarked April 28th on the calendar.  Instead of jet-setting off to some other city to watch baseball somewhere else, or catching a Braves game at still-newish Racist ScumTrust Park, it was actually a minor-league game up in Lawrenceville that had my interest: The Gwinnett Braves Strippers Stripers versus the Durham Bulls, the triple-A affiliate of the Tampa Bay Rays.
It was kind of the best option of all worlds; I'm a baseball hipster that prefers minor league baseball over the majors, I could check out the newly enshrined Stripers and possibly get a new baseball cap to add to my collection, and I could check out the future of the Braves in uber-prospect wunderkind Ronald Acuña, who laughably was held in triple-A for obvious financial and team-control purposes.
Above all else though, it was actually a guy on the other team that I was more interested in: Jonny Venters, he of the former Braves all-star relief corps with Craig Kimbrel, but with the ridiculous power sinker from the left side that I had the luxury of watching for three straight years as he made MLB look like his own personal playground whenever he took the mound.  That is, until he got hurt, blowing out his elbow not just once, not just twice, but three total times in his long and arduous journey back to baseball.
Now he's in the Rays organization, and at the start of the season, he was assigned to triple-A, presumably to keep warm and ready for whenever the Rays would need to get some reinforcements, he would be high up on the list.
I had no doubt that both Jonny Venters and Ronald Acuña were going to be called up in 2018, but little did I realize that both would be called up by their respective parent clubs on the same day, April 25th – three days before I had every intention of trying to see them both, in the minor leagues.
A tiny part of me is disappointed in the fact that my plan was derailed; I was hoping that I could maybe get Jonny Venters to autograph a nice photograph or something since I'm pretty much his biggest fan ever, and maybe see Acuña do something super prospect highlight-y or something, but ultimately I'm not at all heartbroken over this.  As I get older, I like leaving the house less, and the idea of driving like 40 miles to Lawrenceville wasn't really that appealing, and I could probably be more productive or relax more at or closer to home anyway.
I'm stoked to see the Ronald Acuña era begin for the Braves, and as their roster begins to take shape with young promising talent and fewer and fewer placeholders and has-beens keeping positions warm, the more hope that things will turn around emerges.
But more importantly, I'm ecstatic to see that Jonny Venters is back in the big leagues, where he was always destined to be, and even if it's just for a single batter per appearance, I can't express how happy for the guy I am, that he's back.  I hope he continues to get key lefties out throughout the year and keep his ERA low with his strikeout total high, and eventually get more and more confidence until he's back to being the dominating monster he was when he was on the Braves, and stays up in the big leagues longer than LaTroy Hawkins.