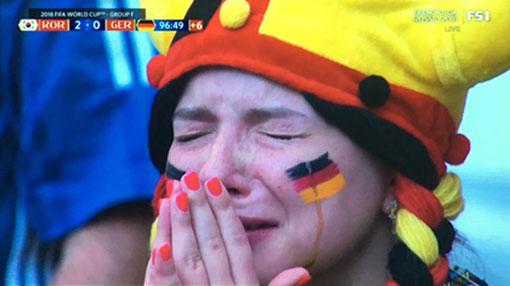 On this date, June 27, 2018
South Korea 2, Germany 0
I sat down to watch this game with pretty much no expectations.  With two losses already, South Korea was pretty much done already, but thanks to the low-scoring in the Group of Death™ they were still mathematically alive.  They just needed Mexico to blank Sweden, and to win their third game against Germany; you know, the defending World Cup winners, by at least a two-goal margin, to cover the differential.
Frankly, after their pitiful performance against Sweden, I stated that all I really wanted to see was for Korea to score a single goal, so that they didn't go home after being blanked the entire time they were in Russia. 
They got their goal against Mexico, but I wasn't satisfied by it.  It happened in the 93rd minute of the game, when Mexico was already up 2-0, so to me, it's basically was a meaningless pity-fuck of a goal that happened long after Mexico had already begun the victory party.  However, it turned out to be an important goal nonetheless, because, due to the low-scoring of the group as a whole, goal differential turned out to be a big deal going into the final games of groups.
Basically, Germany wins and they're in.  However, too many goals by Sweden would make things murky, as would too many goals by Mexico.  And despite the fact that they were dead last in the group, too many goals by Korea would actually have some impact on the standings as well.
But considering the defense-first Koreans took zero shots on goal against Sweden, expecting them to score any goals against a top-class team like Germany would be like asking toddlers a figure out space travel, right??
Frankly, it definitely seemed that way in the first half of the match, as Germany controlled the ball somewhere around 71% of the time, with the Koreans hanging back playing defense and hoping for the counter attack, as is the national norm.  But things changed in the start of the second half, when news broke that Sweden has scored on Mexico; suddenly, the standings turned into a situation where Mexico and Sweden would be the advancing teams, if Germany didn't start putting some goals into the net.
And this is where the day really began to unravel, because it didn't take long for the German players to find this out as well, and suddenly the team began pressing.  A sense of urgency started to take hold with the German squad, and they were becoming progressively more and more aggressive.
The thing about soccer that I've learned is that it's a fairly delicate balance between aggression and counterattacking; often times, the more a team ramps up the aggression in order to score, the more often they're subject to counterattacks, when there are fewer players in the back to play defense when they lose possession of the ball.  With Germany pressing to try and get a goal, suddenly, Korea was getting more opportunities to counterattack.
And then news broke that Sweden had scored again, making it 2-0 against Mexico.  Germany now needed two goals, and suddenly Mexico was in a position to where they could get sent home if Germany were to succeed.  This is the drama that makes World Cup soccer appealing, and anyone with a rudimentary understanding of sports tournaments could find the appeal in this, because every little thing is starting to matter at this point.
Throughout it all, it's like everyone forgot about South Korea, whom, with Sweden's goals, were officially eliminated from advancing, unless they managed to score like 5 goals, in 20 or so minutes.  At this point, they were playing for nothing but to be the spoiler and playing for pride; to go out strong, take out the best team in the world, and hope that their efforts won't be rewarded at Seoul-Incheon airport with fans waiting to boo and throw candy at them upon their early return. 
In the 93rd minute, the Korean team made themselves very clear that they were not going to settle with a draw against Germany.  My god.  This is the moment I'd been waiting for this World Cup, the one thing I'd been hoping to see.  I don't really care who wins the whole thing, I don't really care about any other team as much as I care about Korea.  After 90 minutes plus of defense, the Korean squad finally capitalized on an unraveling German squad and Kim Young-Gwon was in the right place at the right time.
Why the fuck would the royal we, allow for Germany to walk away with a draw and hope the math falls in their favor, when the royal we, could simply take the decision ourselves and remove all doubt from the equation?
This is why they call soccer the beautiful game.  Because seeing South Korea stab the proverbial dagger into the heart of Germany, and snuffing out four years of hopes, expectations and the dream of a repeat was a beautiful thing to me.  And then three minutes later, when Korea twisted it, scoring into an empty net was just icing on the cake.
Seriously, when I saw that the German goalkeeper was suddenly on the Korean side of the field trying to play footsie with a forward, I'm thinking wtf, and praying, praying for a loose ball to be kicked to the German side of the field for an uncontested fuck you goal.  And for once in my life, my prayers were delivered, and the superstar, Son Heung-Min was right there at the end of the field to poke in said fuck you goal.
When I saw the shot of the crying German girl, I knew it was over.  Frankly, I knew it was over after Korea had scored their first goal, but who doesn't like a little bit of a cushion for victory?
Look, I know that I rooted for Germany in 2014.  I have no problem with Germany, and any other day of the week, I'm still rooting for Germany.  But not against Korea.  Against Korea, they're an adversary, and when it comes to competition, I want nothing more than to see adversaries fall in the most disappointing and heartbreaking defeats possible.  And as unlikely as it seemed it would happen today, the unlikely happened.
South Korea might be headed home as was expected of them, but they chose the best time possible to have their World Cup moment, and can now head home with their heads held high as giant slayers, with the remaining field of teams in their debt for having taken out the defending champs.  I hope that when they get back to Seoul, they'll have fans waiting for them at the airport cheering and throwing flowers instead.
This, was a thing of beauty, and why it's easy for me to see why it's the beautiful game.