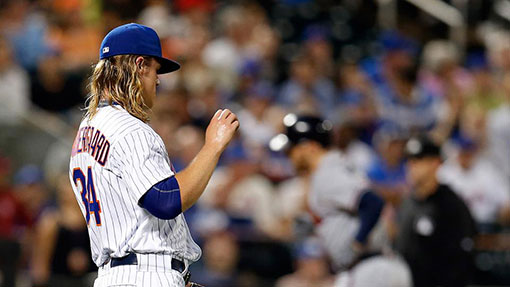 It couldn't possibly happen to any other team: all-star pitcher Noah Syndergaard put on the disabled list for hand-and-foot-and-mouth disease
Most people who follow baseball are remotely aware that Noah Syndergaard is actually a really good pitcher, and not just a good pitcher for the perpetual-woeful Mets.  But to those who aren't, know that Noah Syndergaard is a really good pitcher, definitely among the best in the game today.  It's no more evident than looking for an ironic picture of him sitting on the bench looking dejected, or a pic of the manager taking the ball away from him on the mound as he's pathetically removed from the game.  Even finding this one image of him moments after giving up a home run to an Atlanta Brave was a one-in-a-hundred kind of find.
That's how good of a pitcher he is; even the internet has a hard time finding photographic evidence of when he's having an off-day.
Regardless of his talent of throwing a baseball, he's still on the Mets, and if there's one thing the Mets have become synonymous with over the last few decades is that the players of their team are slightly more subjective to injuries than other teams.  Sure, it might sound like a bullshit assessment, but the proof is there – Mets players just get injured in the weirdest ways, or just so frequently to where they even thought simply making a sign would exorcise the bad juju to stop it.
David Wright hasn't played in a baseball game since 2016, and is still under contract until 2021.  Lucas Duda once broke his wrist trying to move furniture.  Other Mets have gotten staph infections and stiff necks in addition to the usual litany of hamstring injuries, shoulder injuries and like when Travis d'Arnaud kind of forgot how to throw throughout the last few years.  It just goes without saying that Mets players getting injuries is no real surprise.
Yet Noah Syndergaard has to go out and get a fucking disease, and debunk that whole thought process.  I mean really, hand-and-foot-and-mouth disease?  I remember when it was once called hoof-and-mouth disease and only affected cows, and there were some gruesome images in the past of mass cow euthanizations and having to burn the bodies in order to inhibit the spread of the contagious disease.  And because nature is a scary thing, it's clearly mutated to be capable of affecting humans, although it's clearly not as lethal to us as it was our bovine friends.
But here we have it – a Major League Baseball player, privy to some of the greatest medical technologies and capabilities ever, somehow contracts hand-and-mouth-and-foot disease, and is now on the disabled list and quarantined away from all his teammates until he's clear to go.  A real shame for those 26 Mets fans out there that they're losing one of their more competent players, but still pretty astounding that a Mets player could land on the DL with something that still manages to surprise and amaze.  hashtaglolMets