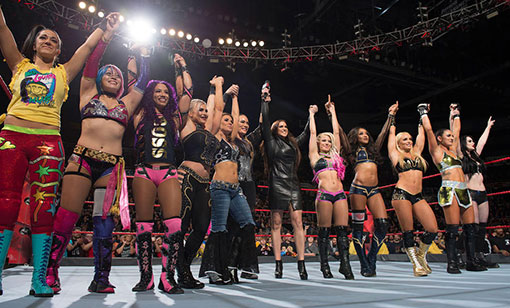 That's the thought that crossed my mind when Stephanie McMahon announced the women-only Evolution special, set to air in October.  I get that such isn't saying that much since the ppvs of the year have been kind of lackluster, but I state such acknowledging the genuine importance and historical significance of the WWE embarking on a women-only special.
A friend of mine and I discussed what it would be like if the WWE had a women-only show, and my first thought was that it would be the kiss of death for the women's division.  Despite the fact that a show featuring solely cruiserweight probably would have been the hottest shit on the planet back in like 1999, 205 Live is kind of proof that good ideas don't always translate into good results.  Much like it, and Main Event (if that's even still around) are good indicators that a show solely dedicated to women would probably not be a good idea, and the women's division doesn't need anything like such to derail the equity that they've been building over the last few years.
Stuff like the Mae Young Classic and the women's Royal Rumble have proven that there's a demand and appreciation for the women's division, but it's far too early to let them stand alone and throw them into the deep end on their own.  For true equality to exist, the women need to be on the same shows and booked by the same people that all the men perform on.
A stand-alone special show is absolutely the right call for this idea, and regardless of the fact that 2018's ppv lineup has been kind of mediocre, Evolution very much has the chance to be the best special of the year.
Because of its historical significance, undoubtedly the WWE is going to be treating the presentation of this show with kid gloves and bring all the best minds on deck to the table in order to put together a killer show that I feel the only real peril is overthinking and overbooking of it.  It goes without saying that between two main rosters and NXT, the WWE has more than enough female superstars to fill an entire show, and the question really is, can all of them find a way to get onto the show?
But for what it's worth, I think the potential is immense, just solely based on the initial plan to have both main shows' women's champions defend their titles, as well as the NXT women's champion.  And it's nice that the Mae Young Classic II's final matchup will be held at this event, which is a tremendous step up from the inaugural event's final, which was clearly taped following an episode of RAW or Smackdown.  I imagine there will be a battle royal of some sort to get as many other women onto the show as possible, and surely there will be some other non-title matches to help fill the card.
Based on the current rate of storylines, I imagine Evolution will be where Bayley and Sasha Banks will have their blow-off finale and Asuka finally captures the championship away from Carmella.  Unfortunately for me, since I'm really not that big of a fan of Ronda Rousey the professional wrestler, this is probably where she captures the RAW women's championship from Alexa Bliss, if she hasn't already gotten it by October.  And because the WWE can't get enough pushing MMA personalties to the moon, there will most definitely have to be some sort of segment of concurrent champions between Rousey and one of her bffs in NXT's champion Shayna Baszler.
Regardless of what happens, I still think it has tremendous potential, and I'm hoping that it's such a great show that it becomes a yearly occurrence, although I almost think it's more baller for the women's division to shine so bright, they deem a women's exclusive show as unnecessary, and continue on their plight to someday main event a Wrestlemania.  Either way, I look forward to Evolution, and I maintain that it's probably got a good chance to be the best ppv of the year.