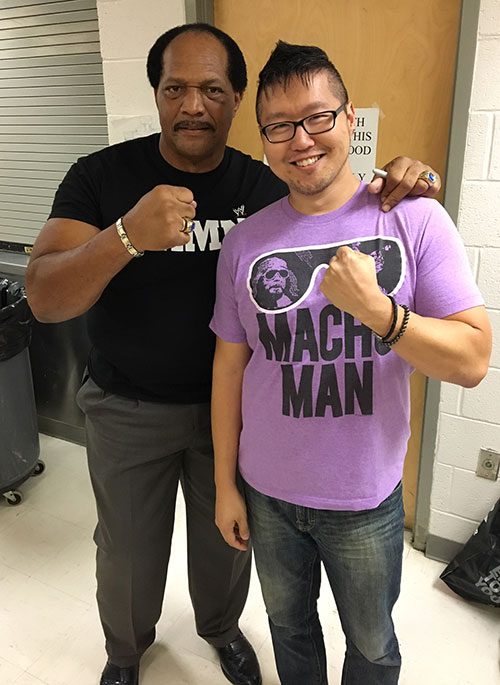 I recently went to an indy wrestling show out in the sticks of Virginia.  Waynesboro, to be exact.  This was actually the impetus for a trip I made in order to spend some time with my family, since I frankly don't really spend nearly enough time with them.
The decision to go to this show was really quite an easy one, because when it first came onto my radar, Juventud Guerrera was listed to be on the card, among a pretty star-studded guest list, especially for an indy show as this one was; guys like Sting, Lex Luger, Vader, Ron Simmons, and the Rock 'n Roll Express were also slated to be at this show.
But as legendary as some of those guys are, I have this ironic love for the weird, and the jobbers, and the guys that don't get nearly the credit they deserve, like Juventud Guerrera.  Plus, I really wanted a Juvi mask to essentially complete my collection of luchador masks on my shelf, since the Juice is somehow considered "too old" in Mexico itself, to have his masks for sale on the streets of la Playa del Carmen. Without question, Juvi was really the only reason that I wanted to go to this show at all.
So plans were made, flights were purchased, tickets were acquired, and I was on my way back to Virginia for a long weekend of family, friends and Juvi Juice.  I was looking forward to it greatly.
And then as the show neared, I went to the promotion's website to refresh my memory of what else was in store; and noticed that Juventud's profile was no longer a part of the promotional banner.  To make matters worse, all mention of Juvi was gone from the site.  My friend messaged them on Facebook, but because they're a yokel backwater promotion, they never responded, but all signs were pointing to the idea that Juventud was no longer going to be a part of it.
"Card subject to change" is one of the bigger tropes of the business, and because professional wrestling is full of flakes and bums, it's the thing said to easily Mentos out of just about any sort of card changing, like Juventud Guerrera not being a part of it.  Unfortunately for those of us outside of the business, the real world doesn't work as conveniently as the scripted one inside of it.  I still had plane tickets and vacation time punched out at work.  Juvi or no Juvi, I was still going to be going to this show, disappointed as hell that I wouldn't get to meet the Juice and pick up la maskara for the colleccíon.
Oh yeah and Vader died, so that was another blow to the card that was going to be hard to cover up.
Anyway, so my friends and I went to the show, in Waynesboro, which is a town that I'd never been to in my entire life, despite the fact that I was born maybe an hour away in Harrisonburg, and had made the drive between JMU and Charlottesville hundreds of times in my lifetime.  Frankly, I'd never even heard of Waynesboro either, since growing up, I figured the entire Commonwealth of Virginia was just Harrisonburg, Charlottesville, Staunton, Roanoke and New Market and a bunch of highway stops where we could get McDonalds.
So Waynesboro, it's basically like every stereotype of redneck America one could possibly imagine.  The old homes with screened in porches and elevated on concrete blocks.  The water tower in the near distance which doubles as a constant reminder that you're in Waynesboro and not possibly somewhere in Bumfuck, North Dakota, Wyoming or Arkansas.  And naturally, the entire show was taking place inside of a high school gymnasium, where a tiny 8×8' ring was plopped in the middle of a gym with walls adorned with state championship banners of sports that hadn't had success in anything in over two decades.
But rednecks do love their pro wrestling, and upon arrival, there was quite the line outside of people clamoring to get in.  And given what I'd observed over the last few years of smark-life, I figured that even Waynesboro would be more of the same wrestling fans that existed everywhere else.  To the point where I made an ironic bet with one of my acquaintances about how I believed that there would undeniably be more Bullet Club and Bullet Club-related apparel seen, over anything else.  He claimed that the nWo would be more prevalent.
Sure enough, there were quite a few Bullet Club, Villain Club, and other varieties of the Bullet Club and their members' apparel; but it turned out that Waynesboro is the land that pro-wrestling ceased to exist outside of the 90s, and it didn't take long for the county to overwhelmingly tip in favor of the nWo.  Seriously, people wearing nWo black and white, nWo red and black, and one guy was even wearing the rare white and black nWo shirt that only Konnan used to wear to to the ring.
I'm not sure how much of it had to do with the presence of Sting, Luger, Scott Steiner and Tony Schiavone, proverbial names iconic to the idea of WCW, but it didn't take long for me to concede the bet and give the victory to the nWo.  One more for the good guys.
As for the show itself, it was very meh.  A couple of guys could definitely work, but as is often the case with these indy shows that pull guests into the mix, the house talent inevitably always jobs to guys that are 10-25 years past their primes, because it's considered to be something of an honor, giving back to the business or some other rhetoric that justifies having young, muscular guys who are trying to make their living, doing the jobs for guys just trying to live paycheck to paycheck after the hard lives of the 80s wrestler.
But overall, it was good to hang out with friends, above all else.  And, because I refused to go home empty handed, I made it a point to do a quick meet and greet with another wrestler that I was pleased to see: Ron Simmons.  Or Faarooq Asad, or Acolyte Faarooq.  The bottom line is that I was a fan enough of Ron Simmons to spend a little bit of cash to get an autographed picture, and a quick shot of the first ever black world heavyweight champion who undeniably delivered the most vicious spine busters in the business.