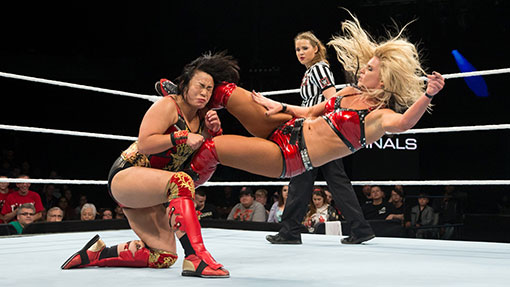 After the semi-final match between Toni Storm and Meiko Satomura, I thought to myself: man, I can't remember the last time I ever felt so vested in a match before.  Usually, whenever I have a that thought, my mind races back way in time in order to exaggerate how long it's been, which took me back to like Wrestlemania XX, when Chris Benoit (pre-psychotic murderous suicidal breakdown) had Triple H in the Crippler Crossface, and I'm on my feet at my friend's house screaming at the television TAP TAP TAAAAP.  Then I realized that I was pretty vested and captivated by the Andrade Cien Almas vs. Johnny Gargano match that happened just earlier this year, but the point is, matches that manage to capture the suspense and excitement of a jaded smark like me are still few and far between.
Toni Storm vs. Meiko Satomura managed to do just that, have a match where I had an idea of who I thought was going to win, and I like think I have a good read on professional wrestling direction, but still managed to execute a match that was able to make me unsure of my choice, scoot me towards the edge of my seat, and make my eyes widen with what-ifs.  Several close calls, repeated kicking out of signature maneuvers and just plain great work from two very competent wrestlers made for an extremely good match that might not get five stars from Dave Meltzer, but damn was I pleased with it.
And for the second year in a row, I have this thought that this is why the Mae Young Classic is so great, is because they put on center stage, a bunch of female wrestlers whom the casual WWE audience probably isn't aware of, so the idea of predicting things is kind of negated and it creates this completely fresh wrestling environment for fans to indulge in.  However, when I think of the matches that stood out the most from last year's Mae Young Classic and this one, I also realize that there's a correlation between those too: Toni Storm.
In my opinion, the clear standout match of last year's Classic was undoubtedly Toni Storm vs. Kairi Sane.  It was given a little bit more time than all the other matches, and told a story of back and forth action, before Sane would go on to win, and then eventually win the whole tournament.  And as much as the Classic tried to proclaim Meiko Satomura vs. Mercedes Martinez as a clash of the titans, that match paled in comparison to Storm vs. Satomura.
As much as I want to give heaps of credit to the Mae Young Classic for bringing fresh talent and kind of a clean slate of narrative to the table, I have to say that the biggest accomplishment of it was introducing Toni Storm to the WWE Universe.  Regardless of where she places in these tournaments, she's arguably one of the most complete wrestling packages, male or female, I've seen in a very long time.  She's not only physically appealing, she's charismatic, has an excellent feel for in-ring psychology and storytelling.  She's got a seemingly endless moveset and has demonstrated time and time, the ability to work numerous styles with numerous opponents, whether it's small, like with Kairi Sane, big, like Piper Niven, bruiser, like with Shayna Baszler, or strong style, like with Satomura.  Barely in her twenties, Storm still has a long way to go before she even comes close to hitting her ceiling.
Obviously, I'm now a Toni Storm fan.  The next question really becomes, how long is Storm going to be contained to the NXT UK division before she's brought to America permanently?  A part of me hopes that isn't that long, because a talent like Toni Storm very much deserves to explode into a global superstar; but then there's a part of me that fears that once on the main roster, she'll be under-utilized and mishandled, like the main roster tends to always do, and she ends up as irrelevant and forgotten as Asuka is. 😞