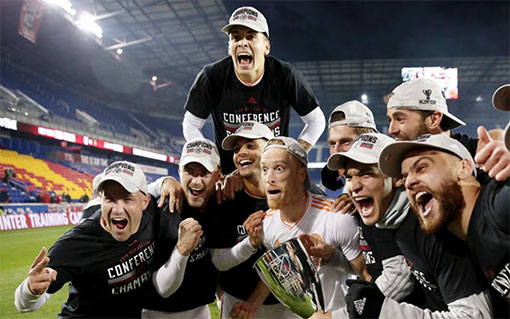 …an Atlanta professional sports team is playing for an actual championship.  Caveat?  It's Atlanta United, the city's soccer team, playing for the MLS Cup.
Don't get me wrong, I think soccer/futbol is great.  I enjoy watching the game, and I understand the vast majority of the rules, and think a 0-0 game that ends in a shootout is a marvelous thing.  It's just that there's no secret that it's often perceived as a second-tier sport to most 'Muricans who think real sports are limited to fat guys in pads who call themselves athletes crashing into one another, or who can slam dunk a basketball to make black people get out of their seats and overreact the colorfully.
When people think about which team is going to bring some championship pedigree to Atlanta, most of the time people are often thinking about the Falcons, or the Braves first; but never the Hawks, because the NBA is busted as hell and the Hawks suck lol.  But the vast majority of football americano fans probably don't even consider the idea that Atlanta United just might do it first, and I get the impression that it would be as met in the same manner as the Washington Capitals did for DC; initial surprise, but then immediate bandwagon embracing as if the Caps held the entire fate of Washington on their shoulders, and not the Redskins, Nationals or Weezards.
Regardless, the very young Atlanta United club, two years removed from their introduction into MLS, are on the cusp of immortality, and have one more team to overcome to get there, the Portland Timbers.
However, because they are still an Atlanta team, this means, in definite absolute, that they are going to lose.  It's the fate of all Atlanta teams, and it's necessary in order to feed the narrative that Atlanta is now the most depraved and saddest drought sports city in America.  The Braves were bounced in the first round of the playoffs as is tradition, and the Falcons are pretty much the embodiment of coming short; after the humiliating 28-3 choke job in Super Bowl Lee, they get bounced by the Eagles the following year, and it's not looking good that they'll even make the playoffs this year.
And I think it's safe to say that at least three generations will pass before the Hawks even come close to winning an Eastern Conference championship, much less an NBA Championship.  And frankly, let's not discuss the WNBA Atlanta Dream, which marched all the way to the WNBA Finals, only to get swept.
It would be easy to assume that I'm trying to jinx the jinx, by actually exerting effort and writing words about how Atlanta's inability to win big ones, will Murphy's Law set out to prove me wrong and give an Atlanta team an actual championship, but I assure you such is not the case.  It's more of a time-sensitive topic, since retroactively writing about it after the fact would be completely pointless, and I'd rather get these thoughts into writing before that can become the case.
Frankly, I'd be happy if Atlanta United won.  Atlanta is so starved for any sort of championship, that I'm sure even the most jaded of phony sports fans would be satisfied with a championship, even if it were in soccer.  It's a sport that has really caught on to the more hipsters of the city, and the timing worked out great, because when the Braves left city proper, It created a void that Atlanta United filled immediately and were immediately embraced by the city, and it feeds the narrative that the Braves weren't above the city when it comes to the love that the fans are ready to pour out.
But the reality is that Atlanta United is still an Atlanta team, so it's rather best to not get hopes up too high, or start making preparations for attending any parades or anything, because as history indicates, Atlanta teams are destined to fail.  Sure, it's destiny until it isn't, but if there's one thing I've learned in my lifetime of being a sports fan, is to temper expectations to where you're not shocked or surprised in defeat, but you're still at a happy place to where you can still embrace and enjoy the thrill of victory.
Lots of us here in Atlanta have had no choice but to get good at such compromises.