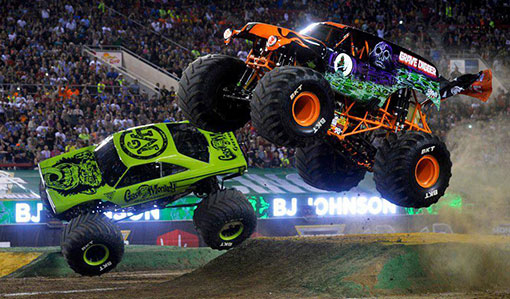 I know that I concluded that Atlanta United winning an MLS Cup "counts" towards the city getting a long awaited championship, but if you ever wanted more proof that MLS doesn't get any respect, look no further than the fact that the reigning MLS Champions won't be able to play its CONCACAF Champions League home games, at home; due to a scheduling conflict – with Monster Jam and Supercross.
AKA the Grave Digger white trash redneck monster truck show and a bunch of dirtbikes pretending like they're Excitebike.
So despite the fact that Atlanta United accomplished the impossible in getting the cursed monkey off the city's back by winning a professional sport championship, they're still denied the opportunity to represent the United States to a likely packed home field against Costa Rica's Herediano fútbol club.
This is what I liked to declare, owned.
It's really kind of silly too, because anyone who lives in Atlanta has probably seen just how maniacal it gets in the city whenever there's an international friendly featuring one or two Latin American squads.  Mexico vs. Venezuela easily filled 65,000 at the Georgia Dome, and Honduras vs. Mexico easily matched that. 
If Atlanta United drew 73,000 into the Benz for the MLS Championship game, imagine just how easily it would draw another 73,000 featuring the heroes of the city versus, a Latin American squad?
It's not something I like to readily admit, but I've been to a Monster Jam show before; the tickets were free, and my sister thought it would be a fun thing to take the kids to, neither of us not knowing just how white trash and stupid the event was going to be.  We didn't last more than 20 minutes in the show itself because the sheer noise of a bunch of trucks revving a thousand times for every actual pass, running over pre-smashed and totaled cars, before the kids got upset over how loud it was and we left, but not before noticing that the show itself probably drew like, 1,000 fans in a Richmond Coliseum that seats 10,000.
I get ethics and fulfilling obligations, but Atlanta United is an actual championship squad and a pretty big deal now.  Furthermore, a CONCACAF game in Atlanta would be a pretty easy layup of instant revenue of 73,000 attendees all dumping money into the city and venue.  I'd like to believe if the Mercedes Benz Arena ate the cost of cancelling Monster Jam and Supercross would be negligible compared to the sheer magnitude of money coming in for CONCACAF, but what do I know?
All I see is that this is just kind of feeding the narrative that MLS doesn't get the respect it probably should get, and the fact that they can't even have the pull to bump Monster Jam just goes to show just how prevalent of a notion that is.
But let's look at the bright side; by moving the game to Kennesaw State University's outdoor soccer arena, Atlanta United stands to have the weather advantage, playing against a squad from Costa Rica.  Georgia is no Denver when it comes to how cold things can get, but in February, it's still dramatically colder than it would be in Costa Rica, and that could work to Atlanta United's advantage, since it's been proven how much Costa Rican footballers struggle in the cold. [2020 spoiler: it worked!]
Sure, only 8,000 people will be able to witness it, but at the end of the day, I guess the W is more important than attendance numbers.  Maybe it was all a ploy – let's all thank Monster Jam!