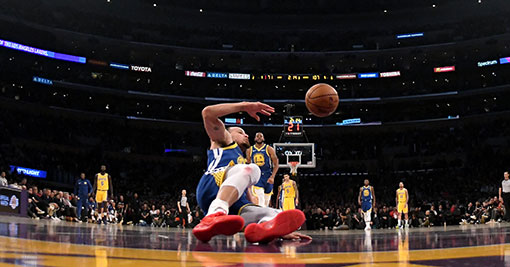 I saw this clip of Steph Curry slipping and falling on his ass during a fast break where he otherwise had a completely uncontested dunk, and the first thought that popped in my mind was can Steph Curry even dunk at all?
A cursory Google search quickly reveals that Steph can indeed dunk, but if you look at this "top-5 dunks" of Steph Curry, it's evident that as good of a shooter he is, he's still physically limited in his dunking capabilities, and it's more like the same four dunks, and one slightly more impressive but still fairly ordinary dunk.
But the question that emerged from all this was, would you rather be the greatest shooter of an entire generation, or be able to occasionally be able to posterize someone with an emasculating and iconic dunk?
Make no mistake, Steph Curry is arguably the greatest shooter of an entire generation.  Frankly, I would absolutely put his name up on the Rushmore of shooters, along with Larry Bird, Ray Allen and Reggie Miller.  It's debatable on whether or not he's even better than all of them too, because none of them really revolutionized the three-pointer like Curry did, to where he's kind of changed the entire game of basketball to where teams revolve their offenses around threes.  Not just in the NBA, but it's trickling down to the college ranks, and all throughout high schools and gyms across America, the three is at an all-time high now, and now just the one solitary skill set that the token white player on the team spots up with in the corners.
But the reality is that Steph Curry can't really dunk.  I mean, he can dunk a basketball sure, but he's not posterizing anyone any time soon.  Even if Patrick Ewing were still in the NBA, at no point would Steph Curry be able to dunk on him, which says something, because pretty much everyone in the 90s managed to dunk on Patrick Ewing.  And dunking is the one skill that defines basketball more than anything else; it's the thing that markets the game, it's the thing that sells jerseys, posters and other merchandise, and it's the thing that all kids want to emulate the most in their driveways.
I loved to shoot the ball growing up, but fewer things were more fun than lowering the rim to like 7-8 feet, and pretending like I were Jordan, Shaq, Grant Hill or any of the other prodigious dunkers of the 90s.  Sure, I'm sure it's as amusing as it sounds to hear of a chubby Korean kid throwing down monster jams, but I'd argue that there's not a kid in the history of existence that liked basketball probably didn't do the same thing at some point.
I mean to me, the answer is pretty simple: you have to be able to dunk, in the NBA.  Sure, Steph Curry is changing the entire landscape of basketball, has a bunch of rings, and will probably win a bunch more, in the current NBA structure, and retire Oprah rich one day.  But he's never going to put Dwight Howard or Demarcus Cousins on the bottom of a poster, and he'll never ever get to have that man-boner of completely sending a guy into a fake injury of embarrassment after they get dunked on.  And in an ego-driven attention-starved NBA we live with now, three-pointers will never have the effect on the culture of America like an old fashioned dunking-on does, no matter how many more feet beyond the arc it was shot from.
As far as Steph Curry is concerned, I know the general consensus is that falling on his ass was the worst possible thing that could have possibly happened, but honestly, I think it would've been worse if he had all the time and all the floor in the world to prepare for what fans would expect like a 360 helicopter jam, and then he hops up and throws down a basic elementary one-handed jam that barely cleared the rim.  The benches would clear of a bunch of players standing up and covering their mouths, but not to muffle their shouts of awe and admiration, but to suppress their sheer laughter and ridicule at the sad sight of a Steph dunk.
Falling on his ass might be on the highlight reels for the remainder of the season, but at least the mystique and unknown of "what kind of dunk could Steph do on an uncontested fast break" remains intact, and that the indignity of his inability to really dunk can be protected for another day.