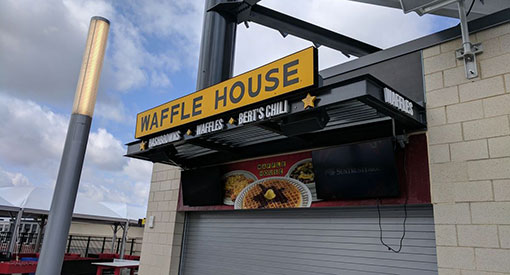 All.  In.  If the Braves were to rename the ballpark after Waffle House.  100%.  Maybe even get a season ticket package of some sort.  It would be the perfect catalyst for anyone to go balls deep into, or back into Atlanta Braves fandom, because the time couldn't possibly be more appropriate given the talent movement going on with the club right now.  I just need a little push, or a little nudge.. or just that slight positive association of the greasy spoons where I've never had a bad meal in my life where I could feel comfort knowing that the restaurant I like to go to the most after drinking is partnered up with the sports franchise that makes me want to drink.
Although the possibility of something like Waffle House Field coming to fruition is like as likely as my job not sucking any time soon, the logic behind the really is a solid.  I didn't think for a second that upon the collection of ScumTrust by BB&T, that the conglomerate would even consider for two seconds to give up the naming rights to ScumTrust Park.  I just, and still assume that whenever the transition is complete, it's just going to remain something as soulless and corporately square like "BB&T Park" and continue existing as the vanilla mass of land in which baseball is occasionally played while they soak in accolades and praise from equally square and vanilla white people who think they know something about architecture with character.
But imagine a world in which the Scum&T blob decided that paying the Braves millions of dollars to slap their name on a stadium that exists outside of Charlotte, North Carolina.  Or the Braves actually growing a spine and deciding that it would be nice if their ballpark were named after an actual Georgia company, instead of a banking company that turned tail and ran towards the money.  What better business would there be to take the keys to the ballpark than Waffle House?  Sure, Coca-Cola comes to mind, as does Delta Airlines or The Home Depot.  And as Oprah-rich as those businesses are, they're still businesses that some people still have to stop and think about to remember that they're companies based out of Atlanta.  Waffle House is definitively, a symbol of the south, which is something that the Braves often try to declare themselves, regardless of the cultural clash between representing the south versus hoarding money like a true Wall Street grub.
Regardless, one of my biggest holdups of going to more Braves games, aside from the fact that I'm getting old and crusty and don't always like the sheer rigamaroll of the logistics involved in simply going to a baseball game, was always the fact that they're playing in a place called ScumTrust Park.  I've been to two games ever at ScumTrust, and I've paid for neither.  To put into context, I've been to as many Mariners games out in Seattle and Marlins games down in Miami than I have than I have been to Braves games in the new ballpark, and I have access to free parking and/or a company shuttle for all home games.
Waffle House Park/Field, or just The Waffle House would shake those hangups out of box faster than me trying to get inside a box of Samoas whenever Girl Scout cookies go on sale.  Not only would I be excited to go more baseball games, and watch the wealth of young talented hitters on the team like Acuña and Albies and Riley, I could go to games knowing I'd be supporting a company that I actually like in Waffle House, and knowing that they got the naming rights at the expense of ScumTrust who literally sold their name and identity for just more money.
Sure, the likelihood of this ever happening doesn't seem at all possible, frankly I can't imagine that even the Waffle House company has close to the financial fluidity to shell out the money for naming rights.  That's a lot of waffles and eggs and hash browns to sling in order to be able to pay for naming rights.
But it's still a refreshing and entertaining thought to imagine, and I for one know that I would undoubtedly be all about going to way more Braves games if they played at The Waffle House.  The potential for punny dad jokes and Waffle House analogies would be endless, like if the Braves ever blew out the Phillies, they could have smothered, covered and chopped them.  Or when the Braves shitty bullpen melts down again, they can make analogies to cheese melting over a steak melt.
One can dream, right?