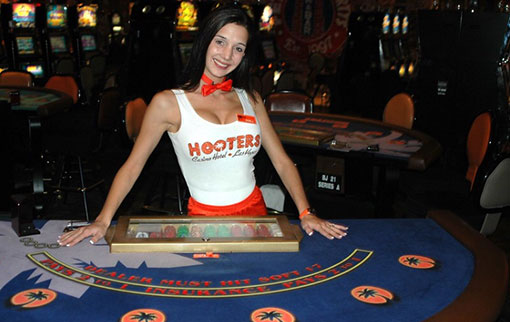 I found out recently that the Hooters Casino & Hotel in Las Vegas is going under, and I can't help but feel a little melancholy at the thought of that.  It was definitely not the most glitzy and must-see destination of all of the Las Vegas casinos, but it was still one of the casinos that seemed like it might actually have some staying power, based on its fairly decent location at the south end of the Strip and just the general fact that they were Hooters, a company powered primarily on one of the staples of Las Vegas's commerce: boobs.
Then again, the south end of the Strip hasn't always been that advantageous, especially looking at the sad state of properties like the Tropicana, Excalibur, and the revolving door of identities that Hooters was before it was Hooters, and it shouldn't be that big of a surprise that even the mighty titty-centric Hooters is even failing.  Especially considering that in comparison to the many casinos that employ go-go dancers and lingerie dealers, Hooters' signature uniforms have become somewhat tame and daresay conservative, and their business model has grown stale in a city that's always changing, in the name of making money.
It was a few years ago in which I went to Hooters last, when mythical wife was still mythical gf and it was her first trip out to Las Vegas ever.  We were staying at the neighboring MGM Grand, so we wandered over to Hooters, just so she could get the full gamut of casinos, seeing as how the night prior, we had wandered around through bougie joints like the Cosmopolitan, Aria and City Center, so now it was an opportunity to see some of the more tired and less-than-glamorous joints.  And walking into Hooters, it was the very definition of tired and defeated, with carpets that looked like they haven't been changed since 2000, the odor of stale cigarettes, defeat and desperation, and barely any dealers working the floor.  Granted, it was a little earlier in the day, but it was still kind of a reminder of the harsh reality that not everything in Las Vegas is glitz and glamour.
Ultimately, it's of no consequence to me that Hooters Casino & Hotel is getting shut down, because I've only ever stayed there once, and I don't always go there whenever I go out to Vegas.  When the day is over, the emotion I feel is mostly based on the simple fact that it's a change to something that I'd grown accustomed to, and there's no secret that change itself is one of the chief evokers of emotion these days.
What really chaps me though however, is the fact that not only is Hooters going away, it's basically going to be replaced by some budget Indian hotel chain, which rubs me the wrong way.  It's like enough shit in America gets outsourced to India as it is, and now a Las Vegas property is outsourcing some decent real estate to an Indian company?  Or maybe I'm just being racist, who really knows.  All I know is that it sucks that Hooters is being replaced by some budget hotel chain, and it seems kind of sad.
I actually do have one of my favorite gambling stories to have come from none other than the Hooters casino.  It was when I thought that I was a somewhat competent card counter, and my brother and I happened to be gambling over at Hooters, because they had pretty low limits and we were being cheapskates.  I was at a table playing blackjack, probably because the dealer was a hot blonde, and it was single deck, so this was naturally a recipe to get me to play there.  The count was favorable, so like a high-roller I doubled my bet to a whopping ten dollars, instead of the table minimum of five.
Kelly Kelly the dealer was showing a 2, while I was dealt double 7's.  I don't remember if this was a scenario where the book said I should've split them, but regardless, I split the 7's; and with my first new card was, another 7.  So I split the 7's again, and then I get a shit 5 and a ten, which brought me to a putrid 12 and an okay 17.  So with my other 7, comes the fourth 7 in the deck, and because I've come this far, I split those as well, putting all the 7s in the deck on my hand.  I can't remember what two specific cards I drew next, but they were both shitty, leaving me with three shitty pairs and one likely-to-push 17 against whatever the dealer had.
I don't remember the specific sequence of cards Kelly Kelly drew, but I do remember that it took more than one hit for her to hold the last card in her possession for dramatic effect, before flipping a bust-inducing face card, and bailing my ass out like The Big Short.  To which I then celebrated winning a whopping $40 win like I had just gotten the final out of the World Series.
I didn't really dump that much money into, or even care that much about the existence of the Hooters Casino & Hotel.  But I still have at least one fond memory to have come from there, and I'm still going to miss it. 🙁