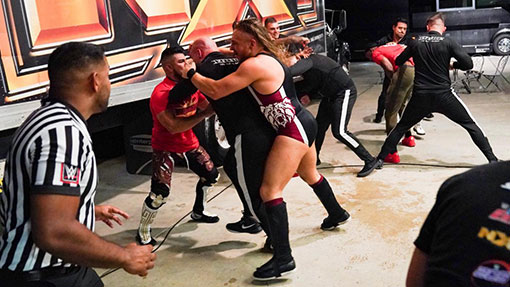 When it was announced that NXT was going national, I was most definitely in the camp that met the news with a feeling of dread.  Not just because I'm a cheapskate that doesn't have access to the USA Network, much less cable television in general, but also because I was very puzzled and dubious about the whole planned execution of NXT, with the first half of the show being exclusive to the USA Network on cable television, and the second hour being exclusive to the WWE Network streaming.
When the day is over, the medium that brings in advertising revenue is going to win out, and I didn't have to watch New NXT to have guessed that they were going to stack the first hour and then take their foot off the gas once the cameras switched over to streaming for hour two.  Look no further to the hour by hour comparison in matches/segments and come to your own conclusion:
Hour 1 (Nationally televised on USA):
Io Shirai vs. Bianca Bel Air vs. Mia Yim vs. Candice LeRae, Fatal 4-Way for #1 Contender to NXT Women's Championship

Cameron Grimes vs. Sean Maluta

Roderick Strong vs. Velveteen Dream for NXT North American Championship
Hour 2 (Exclusive to WWE Network subscribers):
Pete Dunne vs. Arturo Ruas

Xia Li vs. Aaliyah

IMPERIUM promo

Lio Rush vs. Oney Lorcan for #1 Contender to WWE Cruiserweight Championship

Matt Riddle vs. Killian Dain
Sure, it's hard to count the Grimes/Maluta match considering it was a squash where the entrances took 5x longer than the match itself, but two long-form matches featuring the top talents in both the men's and women's divisions, it's clear that WWE is putting nationally televised first, and taking their foot hard off the gas in hour two, because fewer things denote a reduction in effort than an Aaliyah or Arturo Ruas match, regardless of whom they're up against.
It's not even just the format that was troubling to me, it was the quality of the card itself that makes me really wonder if the WWE is taking the impending Wednesday Night Wars with AEW remotely seriously.  As much flack as I gave to AEW's Double or Nothing show for feeling way too much like a glorified episode of WCW Monday Nitro, New NXT Episode 1.5 was basically an episode of Nitro itself, with IMPERIUM playing the role of the nWo invading and announcing their arrival, and the gigantic schmozz that the show ended in was basically a stereotypical ending to an episode of Nitro, minus the 20 lbs. of trash hurled into the ring by unruly rednecks.
Ultimately, I really dislike the general splitting of the show, because it means that I can't watch half of my favorite WWE programming anymore; and the half that I can watch is undoubtedly going to consistently be the weaker one, because there's little reason for NXT to really try once it goes onto the network.
My knee-jerk reaction is to snidely state that with the loss of half of NXT, the network has nothing left other than NXT UK and 205 Live, but then I remembered that they also have every single PPV, but the importance of that fact in my head kind of goes to show just how mediocre they've been for quite a long time, really making me wonder why I still watch professional wrestling sometimes in the first place.
If I'm a betting man, I'd wager it's only a matter of time before NXT goes 100% onto cable television, leaving the WWE Network outright.  In the end, advertising dollars will be too much to resist, and national sponsors are going to pony up way more money than TapouT Available at Aeropostale will, and it'll be the end of NXT on the network.
It makes me wonder what, if at all, will fill the void for NXT on the Network?  Will they introduce a new developmental program?  Funnel everyone into NXT UK?  Straight up acquire Evolve and make them their developmental property?  Go back to Ohio Valley Wrestling?  There are lots of possibilities, but in the end, I'm kind of sad about the idea that the NXT that I'd grown to really love and enjoy is pretty much a finished ride.  My weekly routine of finding a night to watch NXT and NXT UK is going to have to be changed, and probably not for the better. 
Ironic, because the arrival of competition and the Wednesday Night Wars, were supposed to be making "the only winners, the fans."