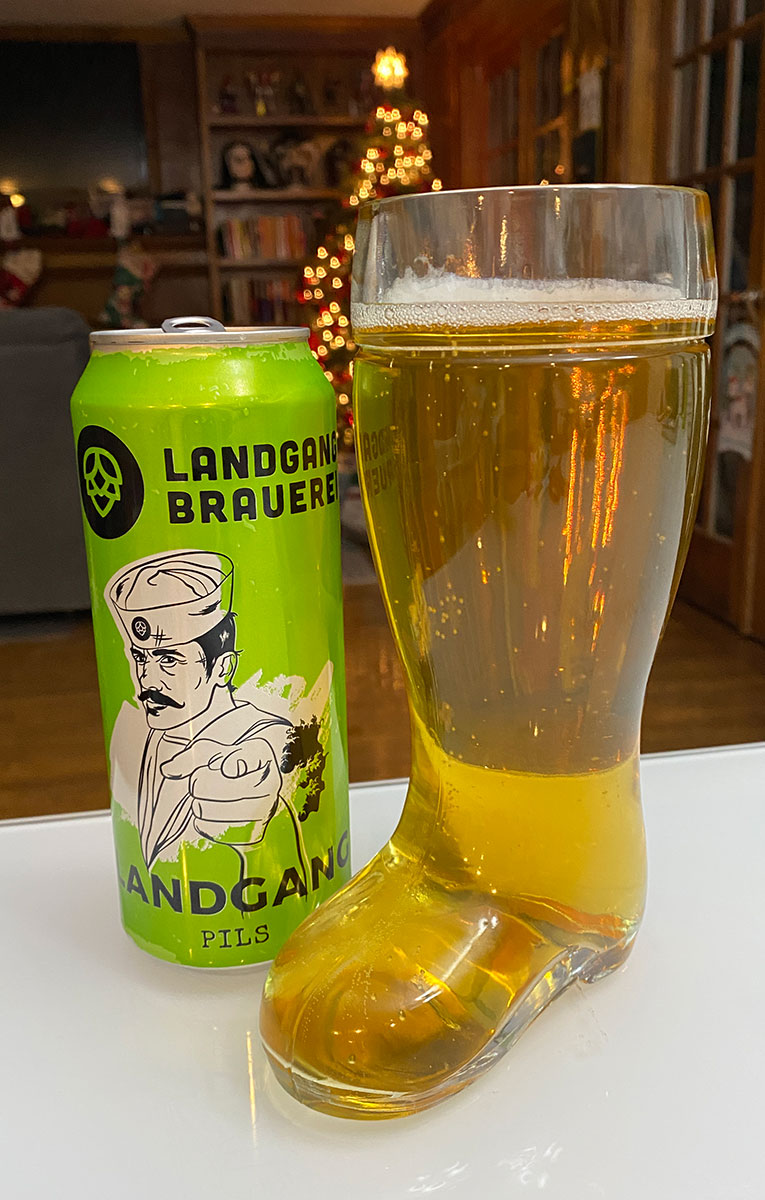 What I've been doing every single day is that right before I pull the day's can out of the fridge, I pull the next day's can out of the box, to prepare it for the next day.  I try my best to not look at the can when I'm doing such, because as has been the routine, I like to be surprised when I pull it out of the fridge.  However, when I pulled this can out of the box yesterday, it was impossible to not notice the lime green color all over the can, and I was wondering if they had just snuck a tallboy of fucking Surge into the box.  Frankly, that wouldn't be the worst thing in the world, but I knew I was getting a lime green-ass can tonight.
Anyway, so when I retrieved the can today, I looked quizzically at the design of the can.  First, I quickly identified that it was a pilsner, mostly because it's listed on the bottom of the can, but then I couldn't help but notice that they've basically put Shipwreck from GI Joe on the can itself for some reason, and I'm just sitting there with this wtf look on my face.
Typically, when I see something short-called "Pils," it makes me think of Sam Adams' Noble Pils, which is one of my more preferred beers in spite of the hoppiness of it.  I normally equate pilsners that identify themselves with lots of hops as IPAs and I think I've made clear how I feel about IPAs, but after stuff like Noble Pils and bier #6 Turbo Prop, I'm in this gray area of love and hate with some of them.  But seeing as how I've been determined to have at least one quality beer with the days remaining, out of my das boot, I was skeptical that I'd be relying on the final day of the calendar to hope to get something particularly good.
Shipwreck Pils doesn't have a lot of aroma, pours very light, and looks every bit like a classic pilsner.  The first sip is immediately satisfying, but there's a little bit of an odd finish at the end that negates a lot of the good will set by the first taste.  Overall, it's an okay bier, that I think sits firmly in the middle of the pack as far as all of the Deutsch beers are concerned.  There have been many better, but at the same time, there have been several that have been decidedly worse than this one.
It is a bier that I could easily see myself having several of them, but that's if someone else were paying for them provided I were drinking Shipwreck Pils only.  If it were on my own euro, I'd probably be seeking out something else, like a dunkel or a weizen, but for what it's worth, this wasn't bad at all.  If it means anything at all, of the three beers I've drinken out of my boot, this has been the best one.
Tomorrow marks the final day of the advent calendar, and I've already seen the color of the can, but know nothing else.  I really hope the box saved one of the best for last, but regardless, this has been a fun little exercise, and excuse to write daily.
Current Rankings:
Jubilation Suds (#18)

Bearjew Weisse (#16)

First Coral (#2)

Kirta (#5)

Turbo Prop (#6)

Schwarze Tinte (#13)

Perlenzauber (#9)

Loncium Vienna Style Lager (#12)

Märzenbier (#20)

Jubiläumsbier 333 (#7)

Landgang Pils (#23)

Zwönitzer Steinbier (#4)

Alpen Stoff (#17)

Kurpfalz Bräu Kellerbier (#22)

Erl Hell (#19)

Grandl (#11)

Altbairisch Hell (#15)

Hell (#1)

Tannen Hell (#8)

Perlenzauber IPA (#21)

Tradition (#10)

Hallertauer Hopfen-Cuvee (#14)

Käuzle (#3)