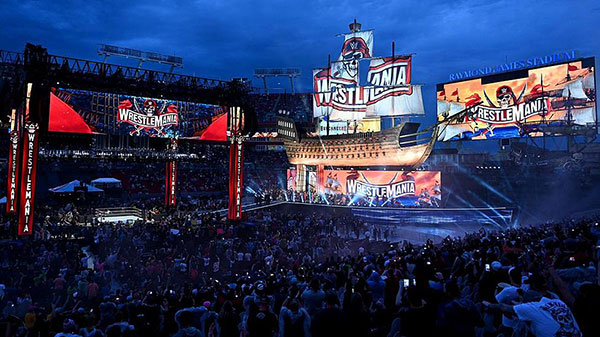 It occurred to me that in spite of how much I like sports like baseball, college football and basketball, or any other sport that I tend to get into for various spurts of time, when the day was over, and I really had to pick one thing to really stay interested in giving my very limited time these days, what wins out in the end is professional wrestling, the so-called fake sport.
I mean it's really no surprise, considering my interest in wrestling precedes every single sports interest I've ever had in my life, so I'm literally falling back all the way to my childhood interest when there's an overabundance of options to be interested in.
Anyway, so this past week was for lack of a better term, Wrestlemania Week.  Both NXT and the main roster broke up TakeOver and Wrestlemania into two-night affairs apiece, and to be perfectly honest, I really liked it in this format, and kind of hope it remains as such in the future, and not just a pandemic thing.  I enjoyed the fact that every single evening was a 2-3 hour event, and unlike 'Manias in the past, wasn't an exhausting five hour show to where I'm dog tired by the time the Brock Lesnar match at the end is over.  I literally had time to slap on a paint of coat in my second daughter's nursery after night 1 of TakeOver went off the air before going to bed.
By breaking up the shows over multiple nights, I could build anticipation for matches on each of the nights, and I didn't feel tired or burned out from watching any one show too long, and it actually helped me remain engaged and entertained.
However, before I get into the meat of this post and talk about my favorite matches of the week, I have to say that I was one part happy to see a raucous live sellout crowd at Raymond James for Wrestlemania, because fans really are one of the things that have been truly missing throughout the last year, and I know AEW and NXT have been running small crowds regularly, but seeing a packed house, made it feel like for the first time, something back to normal.
But on the other hand, the other part of me was absolutely mortified at the fact that there were 25,000 people sold out two nights straight in Tampa Bay, and just days prior in Dallas, were about 40,000 people packed into a ballpark for the Texas Rangers' home opener.  The mere thought of these kinds of gatherings when coronavirus is very much still a thing makes my skin crawl at the sheer ignorance and selfishness being exhibited by all the people going to these things, and turning these gatherings into what will probably become super-spreader events.
I know people miss and desire the feeling of normalcy by going to major events like home openers and Wrestlemanias, but I'll be damned if I go to anything expected to be packed houses, for at least, the rest of my life, if not another two years, without feeling scurred and/or paranoid the whole time.
But that's just me.  Save for the awkward scariness of seeing tens of thousands of fans gathering in a venue again for the first time in over a year, Wrestlemania week was full of some fantastic work; and these were my favorites.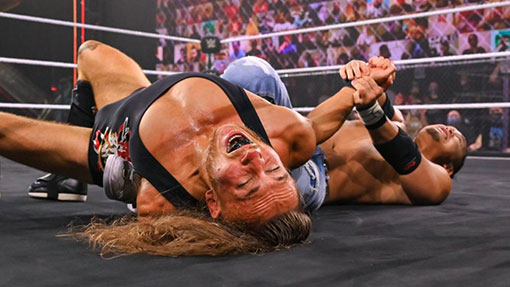 Pete Dunne vs. Kushida (TakeOver: Night 1)
I actually didn't even know this match was on the card.  Frankly, a lot of the matches I had no idea were even happening, I'm so inconsistent with keeping up with the shows, and I fast forward a lot and probably missed this whole build-up.  But just hearing the matchup, my interest was immediately piqued, and I knew this was probably going to be a good match, solely based on the reputation of both competitors.
And as expected, it was a fantastic match, featuring the strong style that both bring to the table as well as a clinic of submission wrestling.  I'm not surprised that Dunne got the win, considering how generally protected he has been throughout his entire WWE career, but Kushida still had plenty of time to look strong and not lose too much stock in the process.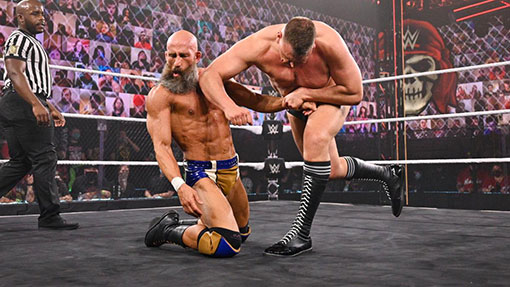 Tomasso Ciampa vs. Walter (TakeOver: Night 1)
This was actually the one match that I was looking forward to the most, out of the entire card for both nights.  I enjoyed the quick buildup, and I grew to appreciate both Ciampa and even Walter, despite the fact that I'm often amused at his generally doughy pasty build, but the guy can definitely work, and figured the two would be very capable of putting together a good match.
And it definitely delivered to my expectations, with it being extremely hard-hitting, tons of stiff chops, and as brutally hard as Walter hits, I knew a guy like Ciampa was more than capable of returning receipts for everything. And despite the fact that I would've wagered money that there was no way that Ciampa was going to win the NXT UK Championship, the idea of the improbable happening was interesting, and the mark in me was still rooting for the upset.
It was no surprise when he didn't win, because Walter is extremely protected right now, even if the WWE made a kind of continuity blunder with him, seeing as how he had a brutal fight with Ciampa on a Tuesday night, only to have a match back in England the following day on the one-off NXT UK: Prelude special against Rampage Brown, with his chest suddenly clear of all the popped blood vessels and damage from the repeated chopfests, but kudos to Walter all the same for making the NXT UK Championship the most prestigious blet in the company right now.
But I have to say, one of the fun things I've learned from watching Walter matches is that no two matches have the same finish.  He beat Dunne with a splash, Bate with a clothesline, Dragunov with a choke; it's been a lifetime in waiting, but finally a match ended with a fucking chop, with Ciampa.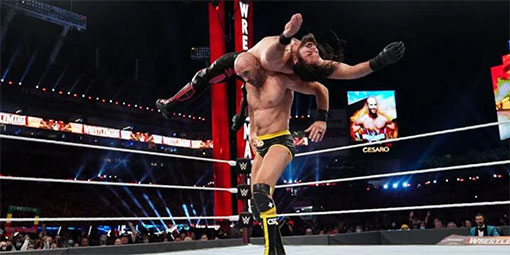 Cesaro vs. Seth Rollins (Wrestlemania night 1)
Just looking at this matchup on paper, it's one that most fans know should be good, but the smarks would snort and add, "if it weren't in the WWE."  But Wrestlemania is one of the few times of the year in which some talents are allowed to actually tap into their wells of potential and put on some good matches, so I have to add that I too would've felt that if this were a regular Smackdown match, it probably would've been a big letdown, but given the grandest stage at Wrestlemania, made this match a big delight.
Despite being protected like crazy over the last few years, Rollins appears to have returned from his paternity leave with a general desire to try and help boost other wrestlers, instead of just getting fast-tracked back to the world title picture.  And if there's ever been a guy over the last years that could use some help and get a positive rub, it would be the internet's favorite wrestler in Cesaro, the most under-utilized guy in the history of the industry depending on whom you ask. 
Fortunately, this match did take place at Wrestlemania, and because of the freedoms that are afforded at it, the two of them put on a fantastic match, with a finish that was even better, meaning fans finally got a long-awaited Cesaro win at Wrestlemania.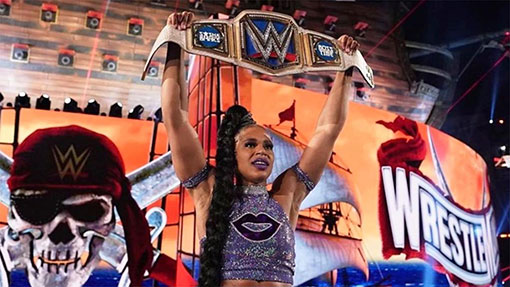 Sasha Banks vs. Bianca Belair (Wrestlemania night 1)
I love the fact that no matter how fledgling or hardcore my enthusiasm for the business fluctuates throughout the years, I still have an eye to pick out stars.  I knew from the first time I saw Bianca Belair, that there was a real star in the making, and she has easily been one of the few of today's superstars that I've kept a close eye on, and rarely passed over her matches.
However, despite the buildup, the Untold episode, and the general pushing of Belair to the main event of Wrestlemania, I actually didn't think she was going to win.  WWE has a tendency to still believe in somewhat of a pecking order and paying dues, and as great as Belair is in my mind, I didn't think WWE was going to give her the ball just yet, especially over Sasha Banks, the current gold standard of women's wrestling, especially after the general buildup they did with her throughout the last year.
This has me to believe Sasha probably has some more Mandalorian to film, or needs some time off for some particular reason, because I always figured her time in the WWE was limited because there was a star there that wouldn't be limited to just wrestling, and I'd love to see her re-emerge later on in NXT UK to go after Kay Lee Ray's women's title, so that Sasha could strive to be the first true all-WWE grand slam champion in history.
More importantly though was the narrative that frankly didn't need Michael Cole to narrate for any fans with any brain; not only was it two women main eventing another Wrestlemania, the fact that it was two women of color was a historic first, and definitely not lost on either of them, with Bianca's face telling a story that can be told for generations to come.
Frankly, this match didn't even need the narrative; much like Kushida vs. Dunne or Cesaro vs. Rollins, just putting Sasha vs. Bianca on paper would stop and make fans go "oooh," and I give a lot of credit to both for absolutely delivering on the hype, and without question, putting on the best match of Wrestlemania, easily dwarfing any of the scraps from night 2.
Overall, I enjoyed this format a great deal.  Breaking things up was perfect for old fans like me to catch my breath, gather my thoughts, and then look forward to more wrestling the following night.  Hopefully this is something that is more considered in the future as a norm, and not as a result of being in the midst of a pandemic.