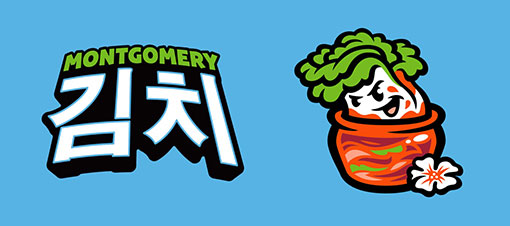 I don't want to think about what I would've done if I had never known about this until it was too late.  Despite my general ambivalence towards MLB these days, my general love for minor league baseball has never waned, and I feel fairly confident I could go to the grave thinking minor league baseball is vastly superior to their stuffy, corporate, money-grubbing major league big brothers.
But the Montgomery Biscuits, the Double-A affiliates of the Tampa Bay Rays, as in Montgomery, Alabama, one of the largest redneck populations in the country, for whatever reason, is doing a Korean heritage night, where they are going 200% balls to the wall all in on it, to where they're even changing their name to Montgomery Kimchi for the night.
More importantly, they are releasing a variety of branded gear for the occasion, and even more than the NXT UK Tag Team championship belt replica that I covet that seems like it will never be released, I realize that don't just want a Montgomery Kimchi cap, I absolutely 17,000% NEED a Montgomery Kimchi cap.
Like, I wanted a Florida Marlins cap before their identity transformed.  I kind of wanted a Chief Nokahoma cap or a fucked up Cleveland Indians cap for their ironic notoriety.  I wanted a large variety of minor league caps from my travels, like the Modesto Nuts, and I actually went to some pretty great lengths to get the sliced bacon cap for the Lehigh Valley IronPigs because I wanted that too.  And I actually have a Montgomery Biscuits cap, and despite being one of the prime centers of the Confederacy, I actually liked the city of Montgomery and their ballpark, and the brand and colors were so gaudy and cheesy that I wanted that too.
But when the Montgomery Biscuits transform into Montgomery Kimchi, I won't just want a cap, I WILL NEED A CAP.  Full stop, period.
I haven't been this excited about something to throw money at in ages.  I've already got the Montgomery Biscuits' shop site perma-opened in a tab, I've got their Twitter account open and ready to refresh daily to see when they'll drop.  I will be ready to go to war for a Montgomery Kimchi hat, and make it look like Dragon*Con Marriott room day seem like the demand for a Stryper cover band.
I already had a soft spot for the Montgomery Biscuits, because I liked their park and I liked their identity.  This kind of outreach and promotion not only makes me love them forever, but more apt to become a supporter of the Rays, since the Braves are shit and I'll need someone to root for that I can give a shit about and not just the pursuit of being right and riding on the hopes that the Padres go all the way just to make me look smart.
Either way, I'm going to be lowkey anxious about my need to get Montgomery Kimchi merch, and probably a little bit crazy until I can secure some.  And I'll go even more ballistic if I manage to get a Kimchi cap and it turns out to be one of those shitty Elmer Fudd quality caps and my life will be over.  But all the same, I will need a Montgomery Kimchi cap.  And probably a shirt, but the kimchi mascot in a men's large is already fucking sold out, and I can only hope they'll replenish and realize that there are hundreds to thousands of Koreans out there that will want them and be willing to throw down cash to get them.
Seriously though, fuckin' Alabama of all places in United States to throw Korea a little bit of love.  Montgomery, no less, where the actual fucking White House of the Confederacy still stands to this very day, is the city that realizes that Koreans are a massive untapped well of cash willing to go gonzo over a little bit of love being shown.  But it's working all the same, and I'm ready to go to war to get my kimchi cap.