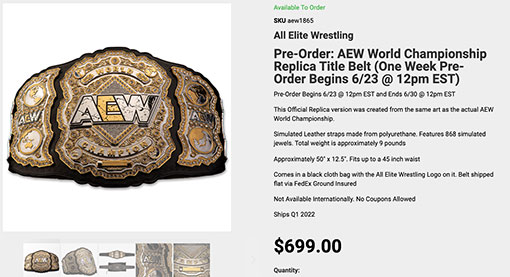 I'm not entirely sure how I ended up on ShopAEW's distribution list, as I have never purchased anything from them, or ProWrestlingTees.com at any point in my life, but for whatever reason, I still get their periodic emails.  It's hasn't really been a nuisance yet, and as much as I clown on them as a promotion, I do think that they still produce some decent merch from time to time, 75% of it being for Britt Baker.  And I figured if the company were ever to eventually release replica title blets, this would probably be the most accurate source to get information about them.
Well, that time finally came, and I saw an email titled "AEW World Championship Replica Title" and my interest was immediately piqued.  Honestly, I'm not that big on their world title; if I had my pick on any of the actual AEW blets available, it would be a Tag Team blet, and since Miro became TNT Champion, it's slowly softened my opinion on what I originally designated a Popeyes Blet.  But as a collector of replica blets in the first place, I still wanted to see what was going, in case there was an appealing price point that could change my mind.
$699.  Six hundred, ninety-nine dollars. 
For a replica blet.
My knee-jerk reaction is definitely, yeah fuck no
Don't get me wrong, I'm not shitting on this blet because it's AEW and I know I've been quick to shit on them for all the dumb things they've done so far.  I'm not shitting on this blet because of its seemingly high price tag; frankly, this isn't the most expensive blet out there.
I'm shitting on this blet because it has a high price tag for what they're not going into any real detail about.  I even watched the video of it in case there was some more clarification on what materials they're using and the quality of the metal, but it's instead just more fluff from Pentagon's valet/AEW's Spanish language announcer, Alex Abrahantes.
New Japan sold official replicas of IWGP belts, which ranged from $2,080 to $1,800; but they're clear that they're using 18-karat gold, and the craftsmanship is very Japanese exquisite.
Even WWE sells more expensive blets, like their deluxe line, which justifies the cost by using real leather, and then they have nearly $2,000 elite replicas which are basically actual, television-ready replicas that are made from 10-karat gold and cubic zirconia stones.
However, WWE also sells all sorts of "more affordable" replica blets, usually not exceeding $399, and are always going on 20-30% off sale, and that's the bread and butter in which I like to throw my money away at.
The fact that AEW comes out of the gate with a $700 blet doesn't particularly seem like a great idea, but that's just me.  Especially if there's zero information on why it costs that much, other than "simulated jewels."  I know I'm one to speak seeing as how I have literally 20 replica blets, but not one of them has exceeded $349, and nobody's ever looked at a blet of mine to try and validate its authenticity.
But as someone who's literally purchased blets before solely because the price point was appealing, if AEW really wanted to move a lot of blets, having more cost-effective alternatives to their $700 coup de grace would probably result in more profit which ultimately should be the goal of any self-respecting retailer.  It boggles my mind how many examples of people and companies who raked in millions selling a whole lot of cheaper, that there are so many out there that still think selling a lot less of really expensive, is a viable business model.
I know the blet industry is about as niche as they come, but if AEW, WWE and NJPW want to actually compete with Pakistanis making bootlegs in caves out of scraps, they all need to rethink their strategies and start releasing some more cost-effective alternatives and an NXT UK Tag Team replica.