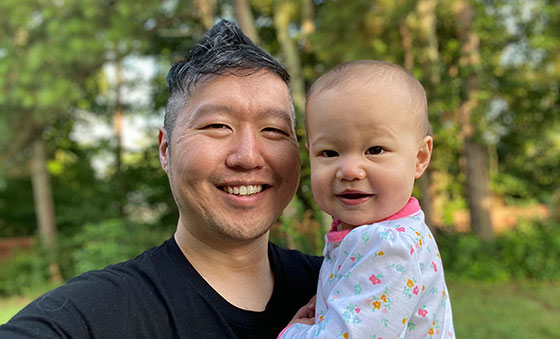 I'm sure this won't be a shock to any of my zero readers, but as excited I am for the impending arrival of my second child, I'm also extremely emotional and often suppressing feelings of guilt towards my first, bringing in a second so soon, and while she's still in a stage of her life where the world is her oyster and should really have the undivided attention that many children at her age really should be getting.
Everything I'm doing, I'm realizing is counting down to the last times in which I'll be doing all sorts of mundane things – as a father of one.  The last time bathing my daughter, putting her down to bed.  The last day in which I'll be logging her feed times and nap minutes.  Picking up her toys and resetting all of her play area books and blocks.  Washing and then preparing the next day's bottles that are hers and hers alone.  The next time I go to bed, and awaken the next morning, I won't even be there to wake her up, since mythical wife will be required to be at the hospital very early. 
I can't guarantee I won't be fighting a tidal wave of emotion before bedtime next.  Because once I'm a father of two, who knows how long or if things like these will ever get back to a similar point, or what's really going to happen in the future.
Although I am supremely confident in mine, and mythical wife's capacity to love our children, and that everything will be just fine in the end, it doesn't change the fact that I'm still harboring all these feelings in the days leading up to the big arrival.
A little over a year ago, #1 showed up at 34.5 weeks, definitely, unexpectedly early, and most certainly classifying as a premature arrival.  This caught me, mythical wife, and all concerned parties completely off-guard, and if not for our own preparations, would have been in a really tricky situation after it had happened.  Even still though, it did lead to some scrambling, and as much as we look at the 15 days of her in the NICU with some angst despite knowing it was the best place for her to strengthen and start her life, it did afford me some time to truly get the house ready, seeing as how she didn't actually get to come home for over two weeks.
That's hardly the case, this time.  #1 showed up unexpectedly early, but #2 couldn't possibly have been more content to stay in the oven, leading mythical wife down a path of new pregnancy experiences like debilitating insomnia and the general discomfort for having a small watermelon inside of her.  She's not on track to be full-term, she is very much full-term at the very instant I'm writing this line right now.
We passed the milestone of #1's early arrival, and have been doing nothing but getting ready for #2.  Mythical wife has gotten her hair done in advance.  Which made me realize that I could go and get my haircut in advance, something I couldn't really do last year because of the surprise arrival plus the start of the pandemic.  The second nursery is almost entirely complete.  My job has been kept abreast and is fully prepared for me to be out for a few weeks as I'm going to finally cash in some of my vacation time that I've been sitting on for this specific reason.
All things that were not the case the first time around.  And for all those reasons that frankly nobody could have any control over, I'm still feeling guilt, irrational as it might be, I can't always help it.  #2 is almost certain to be bigger and stronger upon her arrival, having almost an entire month to keep cooking.  The NICU, god forbid, should be avoided this time around as a result, and she will probably get lots of things that my first couldn't get, like getting to sleep with us in the hospital room, taking to the breast, and coming home pretty immediately; all things that #1 did not experience, even if she won't know it, we do.
Eight, full months of knowing this day was coming, and all the preparations and readiness, and I'm still feeling increasing anxiety and unpreparedness as we get closer and closer.  Like I said, I have all the confidence in the world that everything's going to be fine, but the whole point of all these dad brogs is to chronicle the shit that goes on through my head, as a father of one, and soon to be a father of two.