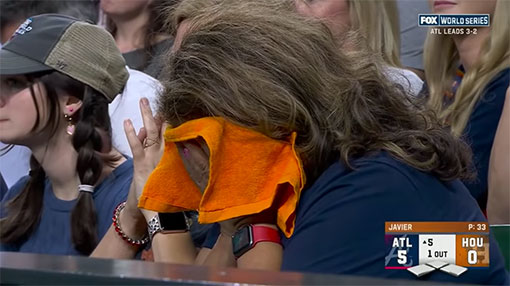 The one thing I wanted to commemorate the Braves' World Series victory was a copy of the November 3rd Atlanta Journal-Constitution, which I'm assuming would have the Braves' victory on the cover.  I don't want any hokey commemorative hats or shirts or a Dugout Mug, just a single copy of the local newspaper.
I asked my nanny to stop somewhere and pick one up, in lieu of coming on time, which she graciously did for me. However, it was the early edition that clearly started press last night while the game was in progress because it literally was a photo of Jorge Soler and text indicating that the Braves hoped to win one more game.  She didn't know and neither did I, and I didn't think the AJC was sophisticated enough to even do early editions.  So by no fault of anyone, mission was still not accomplished yet. 
I went out in the afternoon to a Walgreens hoping to accomplish three things: get my paper, drop off a UPS package, and pick up a prescription.  I accomplished none of them, and that's when the wheels began falling off my day. 
This particular Walgreens is the worst on the planet.  It thrives solely on its optimal location, but the service and quality of the place is straight trash.  Prescriptions are never ready when you go there and they almost deliberately troll you to make you jump through hoops in order to procure.  Honestly, I'm past my wits end and I need to demand my wife stop sending shit there because I'm not going to go there anymore. 
So, the prescription I went to go pick up wasn't ready.  Be like, 15 minutes.  By the way, I'm on the clock since #2's going to wake up soon and my nanny's going to leave.  Next
Oh, this Walgreens doesn't collaborate with UPS. Only FedEx. Next
Oh, this Walgreens also doesn't sell newspapers.  Fucking really?
So I go to the nearby grocery store in this 15 minute window to get a paper, and hope they have a UPS box or can accept outgoing mail.  Nope to UPS and all copies of the AJC are sold out. Next 
So I go to another grocery store, and they're out too.  For as much as people always try and tell me print is dead, the demand for it today sure as fucking hell says it's not.  At least there's a nearby UPS store where I can finally drop off this fucking package I've been unable to drop off for the last 24 hours because UPS drop boxes appear to have vanished like voter suppression. Next
It's been past 15 minutes, so I swing by Walgreens and mercifully, they have my prescription.  I'm on my way out and I make the call to last ditch try the gas station, since my nanny picked up her paper from one this morning.  I go inside and I see some guy wearing full Braves gear, and the cashier tells him sold out.  I storm out.
Now it's time to get back home and relieve the nanny and put my handcuffs back on to baby duty. I will have no more opportunities to try and procure a copy of this paper today.  I am livid, I am dejected, I am just so drained, disappointed and hating the entire world at this moment. 
Going back to another topic, one of my biggest beefs is when people try and tell me print is a dying medium.  It definitely doesn't get any respect from the working world, and it's clear retailers aren't bother supplying it, because on any other given day, copies of the AJC probably are thrown out.
But on days like today, when monumental things happen, there doesn't appear to be anything people want more than a fucking physical piece of print, because something physical and tangible is the best fucking way to commemorate, fucking anything.
Fuck everyone who thinks print is dead. Fuck all the assholes who buy up multiple copies hoping to turn a profit.  And as far as I'm concerned, fuck the world right now because I just wanted one simple thing, and I can't find it and I don't have the time to look for it, and I'm probably going to miss out on something that really shouldn't be this difficult to get my hands on.