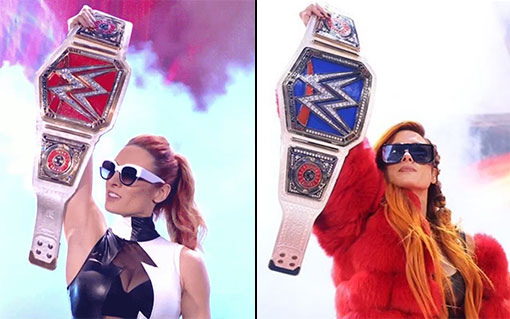 I'm fairly sure it might have started with Sasha Banks after she won the Smackdown women's title from Bayley a while back, but I didn't notice it until she lost the blet to Bianca Belair at Wrestlemania last year: the strap was noticeably shorter.  It bothered me.
This was no more prevalent than during a "surprise" segment during the NXT show after Wrestlemania, when all three brands' women's champions all gathered in the ring to signify the whole NXT and NXT alum success thing, with all of them holding their blets, with Belair's stumpy looking blue blet next to the red blet and the NXT women's blet.
Obviously, it doesn't take a genius to understand that the logic behind shortening the strap was likely due to the fact that Sasha Banks is pretty petite in stature, and a short strap allowed her to wear the blue blet without there being like a foot of excess hanging off of her.  I just figured the WWE would transition back to a longer strap on a need-be basis, but from what I can tell there doesn't appear to be any long-strap versions of the blue blet anymore, or nobody with a waist larger than 20" appears to have held it to warrant going back to one.
To make matters worse, the red blet has been shortened now too, so now RAW is subject to having a stumpy looking women's blet as well.  Yes, Becky Lynch has bounced back from pregnancy like a house of fire, and is probably slimmer than when she rose to the stars, but thanks to such a body transformation, now the red blet is all stumpy too.
I dunno, it just bugs me to see these blets looking all stumpy and shortened.  There's something prestigious and traditional looking about a normal-length strap with all its rivets and snaps, and seeing it all shortened just makes them look lower-class and less prevalent.  Alexa Bliss would undoubtedly not be able to do her trademark pose with these new stumpy blets, which is kind of ironic considering she's probably the most petite superstar there's ever been, to hold a championship.
All I know is that if the WWEShop ever changes their women's replicas to short straps, there's a 0% chance that I'd buy them for my girls.  They look silly, and they would undoubtedly fuck up the aesthetic that I'd try to go with their own hanging blets.  These women need to stop being divas, and get back to traditional, classic, normal-length straps.