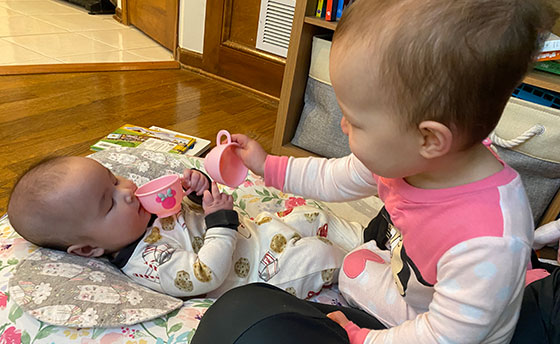 I'll be the first to admit that it goes without saying that I've done a lot of complaining on my brog about the rigors and tribulations of fatherhood, twice over now.  That was never my intention, but that's just the way things have panned out because parenting is really difficult, I knew it would be, but it still didn't change the fact that things frustrated me, and I got stressed out and fried and all sort of defeated on a regular basis, especially since having a second.
More recently, I had a chat with myself, as I often do because despite the fact that I probably could benefit from formal therapy, I have never taken any steps to explore it, so I end up talking to myself a lot, mostly when I'm feeling frustrated and down in the dumps.  I've accepted the reality that over the last few months, I have been irritable and constantly upset, and I told myself just how sick and tired I was feeling of constantly being upset.  
So I rebut to myself, to simply stop.  Just stop being so upset.  Stop it.
That being said, over the last few days, I've constantly been trying to coach myself to not give into anger too much, and even if I do get pissed about something, to let it burn as quickly as possible, and talk myself back from the ledge about how much it sucks to be upset and to cool my jets.  
And as easy as it is to say to stop, it's kind of helped quell my constant frustrations, and much like Peter Pan, I try to think happy thoughts alternatively, and enjoy little things about my kids and parenthood, because in the blink of an eye, this will all eventually be over when my kids grow up, and all I'll have are memories of their baby years, and I want to counteract as much of the negative ones with as much positive ones as possible. 
Once I got my head out of my ass, I took a video clip of my oldest, walking around in the yard.  Watching her progress from a frail premature baby to this boundless energy toddler marching all over our property is something I want to remember always, and it's thinking like this that reminds me of the importance to try and capture moments so that I'll always remember them and be able to relive these days, especially when they're far back in the past.