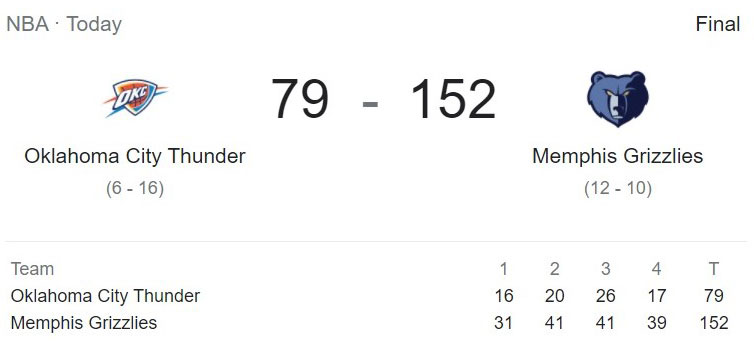 Well, that's one way to gain some retribution: Memphis Grizzlies blow out the Oklahoma City Thunder by an NBA historic high margin of 73 points
Back in 2018, the Grizzlies got blown out by the Charlotte Hornets by 61 points.  Now I'm too lazy to check, but I'm sure that that 61-point margin was the all-time biggest blowout in league history.
No better way to rectify being on the losing end of the worst blowout in history, than being on the winning end of the score that breaks it, and when the Grizz put up 152 points, while holding the Thunder to 79 (which was ironically what the Grizz scored in 2018), I think most people not me, will have forgotten about that woeful night in 2018.
Seriously though, 152 points?  That's never going to not be incredible for me, who grew up in the 90s as a Pat Riley Knicks fan who's teams routinely scored 88 points a game, while holding opponents to, well 79.  I know the NBA has tweaked rules throughout the years to boost offense, and players have learned how to ignore defense through the passage of time, but 152 points will never not look crazy to me, no matter what.