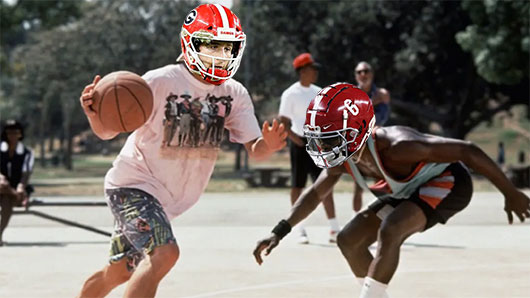 It's easy for me to say after the fact, but no matter how pessimistic I may have verbalized my predictions that Alabama had owned Georgia to the tune of never losing to them since like 2007, I kind of had this feeling that Georgia was finally going to win this one, even in spite of all the tragic history that had befallen the Dawgs over the last 13 years.
The game was not in Atlanta. The vast majority of these matchups have always happened in Atlanta, the home of the SEC championship, as well as one prior National Championship matchup a few years ago.  Even aside from Alabama, for whatever reason, Georgia just can't not shit the bed in their home state, and I feel like there's an added pressure of playing "at home" that Georgia just struggles with, that would not be in play, being in Indianapolis.

Georgia's defense was truly otherworldly this year. I'm not a diehard Dawgs fan, but it's impossible for a sports fan to not know what's going on with them, just through natural sports fan osmosis.  I've witnessed every Georgia season come and go since I've lived here, and this Georgia defense was on a pedestal above them all, and as the old adage goes, defense wins championships.

Alabama beating Georgia twice in the same season just seemed too much ask anyone. Georgia and Alabama have never once, played each other twice in a single season.  Either one of them misses the playoff, or Alabama misses the SEC championship but gets in the playoff.  And with two teams as good as these, it didn't seem likely one of them would win both games.

And of course, baby luck. Yes, it was still in play.  And weirdly, sports success tends to cluster together, regardless of the sports.  Boston had their renaissance period where the Red Sox, Celtics, Patriots and Bruins were winning championships.  When the Eagles won the Super Bowl, Villanova's basketball won the National Championship shortly afterward.  Tampa Bay had both the Bucs and Lightning win championships just a year ago.  And with the Braves having broken the cycle of suck in Georgia, it seemed appropriate that the Bulldogs follow suite and finally win something themselves too.
And in spite of how poorly Georgia came out of the gate during the game, I had this sense that all was not lost.  Sure, the first half turned into a glorified soccer game, where kickers were the only contributors to the score, but the thing is, Georgia at no point was ever out of the game.  Their defense, as taxed as it was, bent but didn't break, and held Alabama within striking distance the whole time.
Contrary to the narrative of most prior Georgia-Alabama games, the script of this game just felt different too.  Georgia wasn't racing to an early lead, where they would then screw themselves up in the second half, collapse and fall victim to yet another Atlanta/Georgia sports team collapse.  They were instead screwing themselves up in the first half, with penalties and unfortunate calls against them, and I made a joke to mythical wife who gets to hear all my mansplaining of hunches and gut feelings, that they still have a chance.
And then with ten minutes to go in the fourth quarter, Georgia sprung to life, almost as if they were deliberately sharking Alabama for the prior 50 minutes of game time, and decided to hit the NOS and actually start playing football.  Stetson Bennett IV, whom I was making jokes about the whole game for having the whitest name in existence, suddenly stopped playing like a little bitch and in like 4 plays that covered like 81 yards, drives down for a touchdown, capped off by this bomb to the end zone, and I'm just like, where the fuck has this guy been for the first three quarters?
Basically, it's like Georgia was Woody Harrelson from White Men Can't Jump, where he was playing like a patsy for a little bit, but when it came time to actually play, Stetson Bennett IV turns his hat backwards, pumps up his Reeboks and starts delivering big plays for big scores.
And then the most astounding thing is that Georgia, only up by 8 points, was still in striking distance of a textbook Alabama heartbreaking-dagger-to-the-heart play to tie the game up and win in OT, they are the ones who stand strong for the first time in 13 years, and haul in a pick six, which was hilarious to watch as Kirby Smart is screaming get down get down, but Kelee Ringo's just like lol fuck that, I'mma be on the cover of Sports Illustrated and next thing we know, when the confetti is falling, it's not Nick Saban under it all for the 50th time, but finally, Georgia.
Much like seeing the Braves win the World Series, seeing Georgia actually win a National Championship was also up there on the list of things that I wondered if I'd ever witness in my life.  Not that I'm a huge fan of the Dawgs, but I live in Georgia, and I know the success of the team can really boost a lot of people here's spirits, so I'm quite pleased.  I guess all that's really left in the bucket of hopes and dreams is Virginia Tech (LOL) and maybe seeing some Korean national teams win something major in baseball or soccer, but they'll be on their own.
Pretty sure with this, the baby luck is now exhausted, and I ain't having no more kids.  But the Braves and Bulldogs, not bad for reinforcing my superstition.  You're welcome, Georgians.