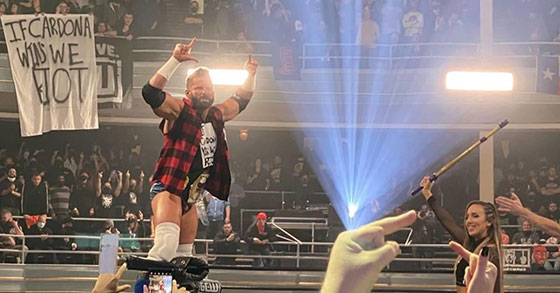 As much as I like to pretend like I'm some wrestling mark hipster, and know every single indy wrestler out there, I'm not even close.  I don't even know where half of AEW's roster originated from, and when guys like Daniel Garcia or Wheeler Yuta show up, I have no fucking clue who they are.  I went to an indy show back in November and saw names like Effy and Marti Belle and had no idea who they were, much less aware that both were title holders in other promotions.
Honestly, up until the episode of Vice's Dark Side of the Ring about Nick Gage, I had no idea what Game Changers Wrestling was.  And based on the episode, where Nick Gage basically repeatedly killed himself in all sorts of deathmatches, I frankly wasn't enthralled with GCW, and came away with an impression that they were a promotion that was determined to one-up ECW in terms of violence.
But then after Zack Ryder was fired from the WWE, and Matt Cardona eventually showed up at GCW after a masterful troll job, impersonating Jon Moxley who had been bouncing anywhere and everywhere he wanted, I began to see GCW showing up on the general internet radar of professional wrestling, beyond the exposure they got on Dark Side.  Eventually, Cardona would dethrone Nick Gage as the promotion's World title, and whether they want to admit it or not, it was off to the races for GCW.
Eventually, the actual Jon Moxley would really show up, and beat Cardona for their World title, which brings us to present time, where thanks to a lot of cross-promotion with talents from AEW, Impact, Ring of Honor and whomever else, GCW had drummed up enough exposure and attention to where a filthy casual like me was very intrigued and interested in their supposed major biggest show ever, The Wrld pay-per-view event.  The card looked intriguing, and I was genuinely interested, and excited to catch my first ever GCW show.
Overall, I thought the show was pretty good.  For a promotion that calls themselves independent, they've definitely got more polish and production value than fans like me were originally introduced to through Dark Side, and basically selling out the legendary Hammerstein Ballroom venue in New York was enough to make it look like a pretty big deal.
There were some pretty good matches on the card, and one of the notable ones was the impromptu Blake Christian vs. Lio Rush match that came to, because Ring of Honor champion Jon Gresham was taken off, what I'm assuming is probably due to coronavirus.  But there's no way the two of these guys would've had this type of match in the WWE when Christian was under the name Trey Baxter, and he and Rush wouldn't have gotten more than five minutes to have a match.  I made a joke that this was a piss break match, mostly because I don't particularly care for Lio Rush, but it was still an entertaining and solid match overall.
The biggest disappointment match of the night in my opinion was the Briscoes open challenge for the GCW tag team championships, because pretty much everyone and their mother thought that this might've been the night where they would get a match against FTR, seeing as how a match had been built up over the last few months.  It would've been an instant classic pitting an AEW team that's holding the AAA tag team titles against an ROH team that's holding the GCW tag titles, but instead it turned out to be some fat guy teaming up with Nick Gage, in what seemed like a flex for Gage to make sure he was closing out the GCW show.
And make no mistake, the match stunk, and it wasn't more apparent what was going on than after Mark Briscoe takes the pin to drop the titles, and he rolls out of the ring where he and Jay get the fuck out without so much an attempt to sell the match, so Nick Gage and the GCW original roster can close the show out celebrating in the ring.
The most entertaining match of the night, and I predicted that it would be the case, was of course, my opinion of the hottest act in the industry right now, Matt Cardona, versus Joey Janela.  As much of a jobber that Janela had been in AEW over the last two years, I know the guy is still a decent worker, and I figured he and Cardona had the chance to steal the show.
Plus, seeing Cardona do his thing live, riling up a ripe Hammerstein Ballroom crowd was a magnificent thing of beauty, because as everyone in the industry knows, the most important objective of a wrestler is to be able to elicit response from a crowd, and pretty much every person in the venue was white hot for hating on Cardona.
It's actually awe-inspiring to witness the reinvention of Matt Cardona post-WWE, and although he's not going to be making WWE money bouncing around through all the other promotions, he's definitely earning respect and building up a buzzworthy arc and a potential industry legacy doing what he's doing right now.
And then to see cameos by Virgil, X-Pac, Kurt Hawkins and fucking Hornswoggle, the match devolved into the shit show I figured it would turn into, and thankfully, Cardona still gets the win in the end.  Legit, I'll be interested in anything this guy does right now, that's how high on Cardona I am right now.
Again, I have to say that overall, the show was a lot of fun, and it genuinely felt refreshing to see something actually counter-programming to the vanilla and corporately homogenized products of WWE and even AEW.  It is a great time to be a lesser-known promotion right now, because thanks to the future endeavors of the WWE, and the mismanagement of talent by AEW, the sheer amount of credible talent just floating around in the aether, available to show up at any show, is making it really fun to see some surprises on a regular basis.
I'd have to say as of right now, it's debatable that GCW could legitimately be a top-five American promotion.  Obviously, the WWE and AEW are at the top with Impact to round out the three.  But with Ring of Honor on hiatus still, I would have to say that the NWA and GCW would currently be jockeying for position in those 4 and 5 spots.
All the same though, GCW put up a quality show, and I was thoroughly entertained.  A+, would watch another.