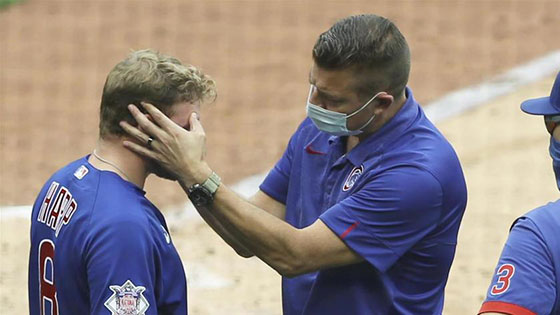 Long story short: Major League Baseball is still in lockout; Cubs' outfielder Ian Happ "hopes the fans understand what they're fighting for"
Here's the actual quote:
The players are so heavily committed to getting this thing back on track and we hope that the fans understand what we're fighting for.
As the subject of this post says, no Ian, we won't.  We will never understand what baseball players are fighting for, because we all know it's just money.  It's always money, it's never anything other than money, and anything else that is ever mentioned is just another roundabout way of saying money.
So no Ian, we the fans will never understand why baseball players whose league minimum salary for the even shittiest player on the 25-man roster is practically $500,000, are trying to get even more money.  Especially considering every team's MLB Players Association rep is usually a veteran player who probably makes anywhere from $4-32 million dollars a year, and is somehow trying to bilk even richer assholes who run the league and the teams out of more money, while prices for parking, food, apparel and tickets continue to rise and rise for the fans that actually fund all this entire racket in the first place.
Up to this point, I didn't really care that baseball was still in a strike.  Over the last few years, it seems like every major sports league seems to go into some sort of strike, be it players or referees, leading to all sorts of shitshow bullshit, and then the conflicts are settled, and things go back to normal, to the point where it's no real surprises anymore when some other sport league goes into a strike anymore.
I figured that eventually this MLB strike would end, players strong arm the league and the owners out of more money, who will then turn their losses onto the fans; millionaire players and billionaire owners end up making more money than ever, while the fan experience gets more expensive and the sun rises in the morning. 
We then have a chaotic season where there ambitious players who workout privately and/or go apeshit on performance enhancing drugs while testing is off the table are ready for the work stoppage to end and put up ridiculous numbers and highlights through the season, while on the other side of the coin there are lots of lazy players who take their job for granted get out of shape, and get shelled through a season but manage to keep their jobs because baseball teams are suckers for sunk cost fallacy. 
And there are lots of injuries because people are out of shape, or their bodies are in turmoil from going apeshit on performance enhancing drugs while testing is off the table.
But I didn't really care that the strike was going on.  I've got enough on my plate to where baseball is unfortunately an afterthought, as much as I do love the game, in spite of how critical I can get towards it, but it's because I care, damn it.
But then seeing Ian Happ's remarks about hoping fans understand why they're going on strike just set me off, because it's just a perfect example of how tone deaf baseball players themselves can be when they stop realizing how privileged they are to be making money at all for playing a kid's game at an incredible level.
Take Happ himself for example.  The guy is set to make $8 million dollars in 2022 that will undoubtedly be less than that because the stoppage.  The guy has already made about $8 million dollars in baseball salary alone at this point, and if he has any bit of IQ outside of baseball, could probably very easily live out the rest of his life very comfortably at the age of 27.
And he wants more money.  All of his MLBPA compatriots want more money.  And the funny thing is that Ian Happ is a pleeb, in comparison to some of the other guys on the MLBPA that is "fighting for," more money. 
Like Max Scherzer – this guy is legitimately contractually obligated to be paid $43 fucking million dollars in 2022 alone, for throwing a baseball over and over again.  His current career earnings from baseball alone have already exceeded $139 million dollars.  If he stopped playing at the end of his current contract, he will clear $300 million dollars.  And because baseball is full of laughably stupid, idiotic contracts, even if he were to retire in 2024, he would still make $60 million dollars over the following four years because of deferred payment from the Nationals and Dodgers.
This guy wants more money too.
Make no mistake, the end goal of this strike benefits nobody but these greedy fucks who think baseball is absolutely indispensable in the grand spectrum of the world's needs.  I love the game, and I'll always love the game at this point, but I'd love to see the owners and commissioner's office hold their ground, and the season grinds to a full halt. Laughably it would only apply to the MLB season, and as 2020 showed, when 'Murica needed baseball to watch, they simply outsourced that need to Korea, and ESPN started broadcasting KBO in the states.
Furthermore, Minor League Baseball wouldn't be affected by this, and if you don't think television rights to broadcast the Lehigh Valley Iron Pigs, the Rocket City Trash Pandas, Montgomery Biscuits, Toledo Mud Hens, Modesto Nuts and all the other gaudy but still competitive minor league baseball wouldn't suddenly be hot tickets, the Major Leagues would become a fast afterthought.  Casual fans and lovers of the game will find their salvation in the minor leagues, and MLB can go choke on a bag of dicks.
It wouldn't happen, because at some point, one party is going to blink, but it's fun to imagine the global baseball power shift if MLB comes off the table at their own greedy volition.