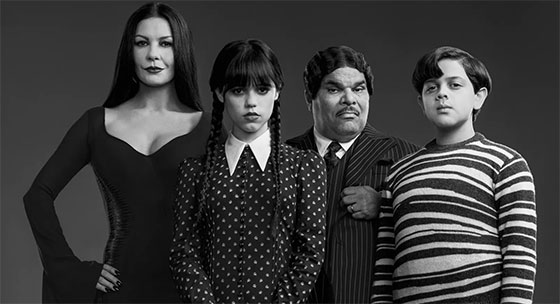 Apparently because I live under a rock, I had no idea that there was an adaptation of The Addams Family on the slate for revival.  And very recently, some stills dropped to release the initial promotion for what is apparently going to be a Netflix series.  Obviously, I know nothing about it at all, but seeing the above image, was enough for me to be intrigued.
To no surprise, Catherine Zeta Jones is still gorgeous, and there's little doubt that she'll visually portray Morticia Addams probably very well.  The kid playing Puglsey doesn't look nearly as fat or creepy as I always remembered the character to be, and I don't think I need any synopsis to read that based on the promotional imagery, the show is probably going to lean heavily on swirling about Wednesday Addams, because the point of all revivals and reboots today are typically geared towards drawing in the next generation, while using easter eggs and nods to the past to satiate us olds.
But for me, it's all about Gomez Adams, who is laughably portrayed by Luis Guzman.  Now I've been a fan of Guzman since I saw him in The Count of Monte Cristo, where he played Jacopo the Maggot, Edmond Dantes' sworn-for-life right hand mate, a role that endeared me to him forever, because few characters have ever portrayed selfless and die-hard loyalty than Jacopo did.
But let's not sugar-coat it; Luis Guzman isn't exactly the most stereotypically handsome man in the history of Hollywood media.  He's a stumpy, pug-faced runt of an actor that so often times gets pegged as some cholo Los Angeles gangbanger named Hector or something as stereotypically bad.  And here he is, slated to be the suave, debonair, romantic love machine, Gomez Addams that was so brilliantly and famously done by Raul Julia in the 1990s.
From what I've heard, this reboot is supposedly aiming to harken back to the original Addams Family comic strips from way back when, where Gomez was always portrayed to be kind of stumpy, way shorter than Morticia, and in fact, a little ugly, compared to his bombshell of a wife, adding to the situational humor of the pairing.  So I guess that if that is the objective, than a guy like Luis Guzman isn't a bad pick, but at least for olds my age, who grew up seeing Raul Julia flipping around and stealing the scenes with his portrayal of Gomez, it's going to be a really, really hard sell to see Luis Guzman try to ooze the machismo that his predecessor did.
All the same, I do love Jacopo, and for him alone, I would consider giving this Netflix Addams Family reboot a flyer.  Sure, it'll sit underneath tons of other titles that are in my queue, but if the conditions are right, I'm definitely willing to give it a shot, because as hard of a pill it'll be to swallow, my appreciation for Luis Guzman would make me take a chance on the new Gomez Addams.