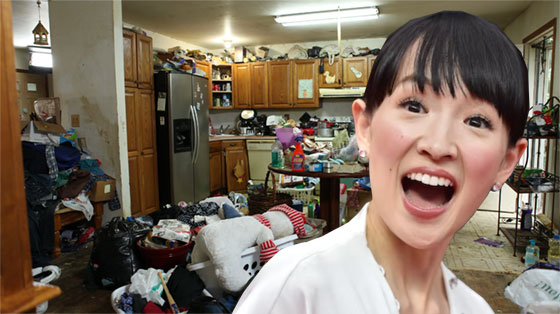 One of us, one of us: extreme tidy-er Marie Kondo admits to giving up on extreme tidiness and that her house is messy
This is what we would call a pivot, in the working world.  I didn't realize that Marie Kondo was two years younger than me, and it probably would've been a real fucking chore to maintain the air of minimalist perfection for the rest of her life in order to maintain her brand, not like she really needs it anymore considering her book has sold over 40 million copies and her Netflix show had already been a big hit.
Coming out to the public to explain that she's mostly given up on being tidy, and that her own home was messy, probably the smartest thing to do.  Better to disclose the intel on her own terms instead of having someone find it out, disclose it on the internet, and have the wrath of the internet be all over her calling her a fraud and a hypocrite that tells other people what to do with all their shit but doesn't know how to handle her own.
But what this really boils down to is the fact that the reason why the Queen of Clean has become the Herald of Hoarding just like that, is the same reason why millions of people like me struggle to maintain our own capabilities of tidiness as much as we'd like to: kids.
Her book went gangbusters in 2011, but then she got married in 2012.  Presumably it wasn't long before did kids come into the equation, so it's actually very impressive to me that she had the wherewithal to even entertain producing her Netflix series that dropped in 2019, which either means she was an absent parent or her husband filled in admirably, perhaps both.
But as is often the case, once the number of kids begins to outnumber the adults in a family unit, that is where the shit begins to hit the fan.  And this is coming from someone who's family is currently at a 1:1 ratio, and I still feel like I'm losing control all the time.  I couldn't imagine bringing another into the home, and mythical wife and I take measures to make sure that such will become an impossibility.
And in Kondo's case, third child enters the fray, and suddenly she's no longer able to keep up with being KonMari, professionally, or in her own personal life.  I think it's hilarious that she didn't just go from "no longer being tidy," to being "my house is messy" because frankly that's the kind of transition that my household went through when kids started entering the equation.
The point of all this is that kids quite literally, break anyone.  If they can break a wealthy multi-media success like Marie Kondo, they'll have no problem at all busting up the lives of all the rest of us plebes who decide to reproduce and repopulate, and the more non-parents can comprehend just how difficult it is, the better chance of understanding and empathy can emerge.