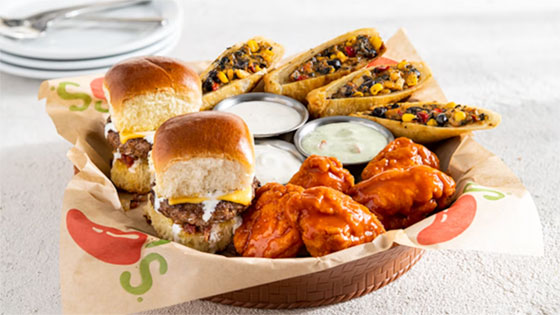 I would have killed to have had a wedding food budget under $2,000: Georgia bride sparks internet debate after revealing that she had catered her wedding with food from Chili's
Camp me firmly and unquestionably on the side that is completely on board with catering from Chili's.  I would have been willing to shave my head if I could have paid 1/6 of what I ultimately paid for catering at my wedding.  Not to mention the menu itself sounded perfectly adequate, if people didn't hear the Chili's name attached to it:
served guests an all-Chili's menu including chicken tenders sliders, egg rolls, chips and salsa, Cajun chicken pasta and salad
I know the woke society we live in is all anti-chain and tends to automatically dislike restaurants like Chili's, but I have no problem with Chili's.  In fact, of all the lily-white chain restaurants out there, I'd go out on a limb and say Chili's is probably among my favorites if not my favorite one.  Their ribs are fantastic, they used to have these tacos that were both good and economical, and frankly there's nothing on their menu that wouldn't hit the spot on any given day.
When a Taco Mac is slammed to the gills despite the fact that they're a chain restaurant themselves, just regional, it's nice to know that I can probably get expedient and quality table service from a Chili's if there's one nearby, which has been the exact case more than just a few times in my life.
I feel like I went to a wedding within the last year where the menu was kind of like this, and I'll be lying if I didn't say that it wasn't completely satisfying to go back up for seconds and get a generous helping of chicken tenders with three different dipping sauces.  It might not have been from Chili's, but the menu seemed to have some overlap here.
But seriously, I'm completely on the side of this bride who sounds like she made the best of her budget and went with an option that provided decent grub at an extremely economical price point, and I feel like anyone who criticizes her choices probably needs to get their pretentious heads out of their pretentious asses, and get over their prejudices of chain restaurants.  More so if they themselves have never had to plan a wedding and deal with the ridiculous cost of catering, because that shit is absolutely bonkers and they 100% put a cost on the fact that it's for a wedding in the pricing.