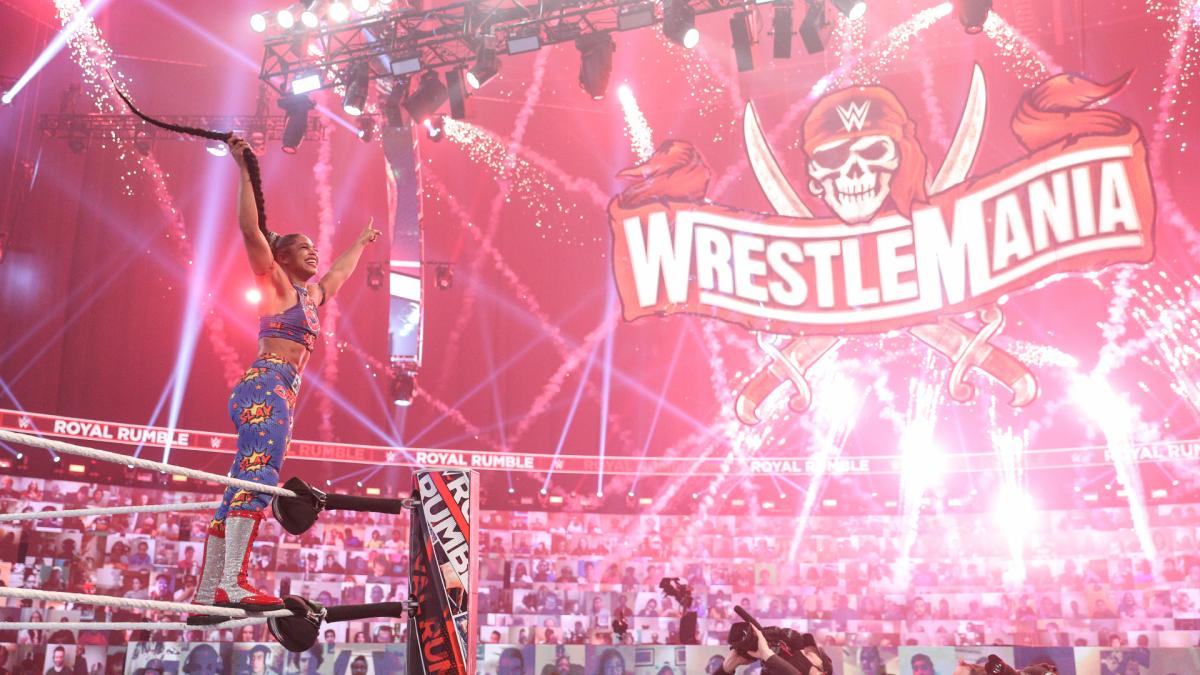 Of all the pay-per-view events of the year, the Royal Rumble is still my favorite.  More than Wrestlemania, and definitely more than Summer Slam, Survivor Series and all of the other tier-2 shows that permeate the rest of the calendar throughout the year.  It's one of the only shows with gimmick event(s) that haven't been mutated or removed outright too much, like Survivor Series, which does basically one elimination match per gender a year, as opposed to the old days where every single match was a 4 vs. 4 elimination match.
In fact, the Royal Rumble has only gotten better in time, mostly on account of the fact that they do a women's Rumble as well, which means fans get two Royal Rumbles on the same night.  So needless to say, I was looking forward to this year's Rumble, as I do just about every other year, because it's the one show of the year where a fun gimmick event still happens, and the predictability of storylines can actually take a little bit of a backseat to some highly-improvised battle royal-ing.
At first, I was a little disappointed that the women's tag team championship match was denigrated to the pre-show that few people actually watch, but from the standpoint that three of the competitors in the match would be pulling double-duty and showing up in the women's rumble later that night, it makes sense to have them go early, so they can recoup and rest before coming out again later on.  As much as I don't particularly care for Baszler and Jax as champions, it too also makes sense to put the belts on them, because it sticks them in hold, and out of any potentially meaningful singles storylines, although that's not that fair to Baszler, whom I think has a lot of potential to be untapped, but I'm very much lukewarm on Jax.  Plus, it frees Charlotte up to do bigger and badder things, although she has to get through this cringey storyline with Lacey Evans kayfabe-banging Ric Flair first.
Good on the show for having Goldberg vs. Drew McIntyre start the official show off.  As much as fans are perplexed and disgusted with Goldberg's frequent cameos, I have to imagine that the talent probably loves working programs with him.  When they get to their inevitable matches, they're basically guaranteed a 4-minute spot-fest, a quick decision, and they can be out the door and asleep in their own beds by 10:30, which is ultimately what a lot of the more family-oriented performers really want.
I feel kind of bad for Kevin Owens, because I'm really high on him, but he was undoubtedly used as a stop-gap feud for Roman Reigns, to help hold him over until Wrestlemania.  But I think there was no doubt that he was going to go over, because as much as I like him, I can't possibly see any ways Creative would have anything for him for Wrestlemania, while Reigns is still doing the lord's work as the Head of the Table, and there's still so much more potential to be tapped into before taking the strap off him.  Frankly, I could see him as champion for a whole other year if he keeps this persona going.