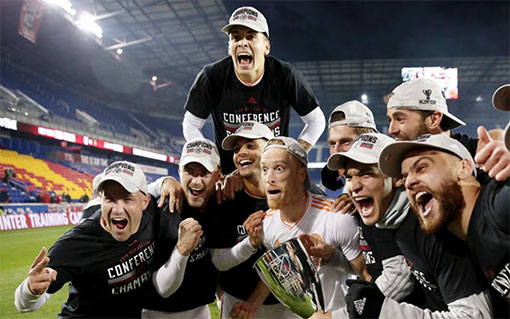 …an Atlanta professional sports team is playing for an actual championship.  Caveat?  It's Atlanta United, the city's soccer team, playing for the MLS Cup.
Don't get me wrong, I think soccer/futbol is great.  I enjoy watching the game, and I understand the vast majority of the rules, and think a 0-0 game that ends in a shootout is a marvelous thing.  It's just that there's no secret that it's often perceived as a second-tier sport to most 'Muricans who think real sports are limited to fat guys in pads who call themselves athletes crashing into one another, or who can slam dunk a basketball to make black people get out of their seats and overreact the colorfully.
When people think about which team is going to bring some championship pedigree to Atlanta, most of the time people are often thinking about the Falcons, or the Braves first; but never the Hawks, because the NBA is busted as hell and the Hawks suck lol.  But the vast majority of football americano fans probably don't even consider the idea that Atlanta United just might do it first, and I get the impression that it would be as met in the same manner as the Washington Capitals did for DC; initial surprise, but then immediate bandwagon embracing as if the Caps held the entire fate of Washington on their shoulders, and not the Redskins, Nationals or Weezards.
Regardless, the very young Atlanta United club, two years removed from their introduction into MLS, are on the cusp of immortality, and have one more team to overcome to get there, the Portland Timbers.