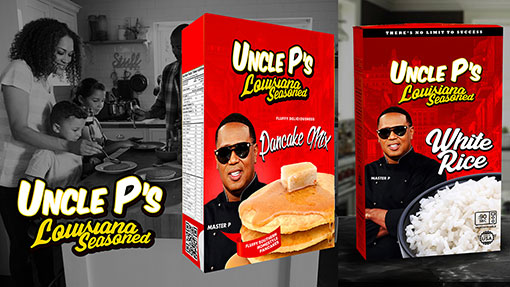 I grimace face'd: has been rapper Master P releases line of instant food with the intention of replacing Aunt Jemima and Uncle Ben, aptly called "Uncle P's"
Lately, I've been in one of my writer's ruts.  My janky ring finger that makes it occasionally difficult to type, combined with the fact that now that my brog is back up, I haven't really found a good rhythm to write, and I've kind of lost touch with all the sites I used to hit up to seek out inspiration.  And then there's that thing called "the baby" which commands the vast majority of all my days, and I sometimes struggle to find things to want to write about, or find the time to carve out in which to do some writing.
It's times like these, when stories like Uncle P's Louisiana Seasoned instant food line, kind of help trigger my brain into spurting out words again, and see if I can break some of the rust that's forming on my writing chops before they go too dormant.
Honestly, my first thought when I read the headline and then saw the hero image was, is this for fucking real??
I haven't heard Master P's name since like, 2000 when he showed up on WCW to do a rap vs. country music storyline that ironically ended up with the heel country faction helmed by the late great Curt Hennig inadvertently getting super over, when it was obviously clear that the rap faction was the intended stars.
He also released this shitty song that somehow was always in the top-5 music videos on MTV that I used to watch the countdown after school because I literally didn't know what else to watch and MTV seemed like it might be cool.  Coincidentally, the lyrics are what I would imagine the average Uncle P's customer would be doing, while on the crapper after eating too much of Uncle P's hackneyed instant food products.
Continue reading "Make Em Say Ughhhh . . . on the crapper" →