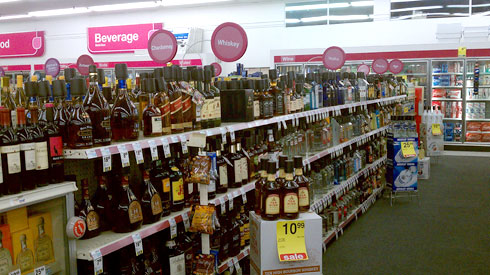 At first glance, this looks like a photograph taken inside of any old liquor store.  Jack Daniels, various vodkas, whiskeys and wines available, and then entire aisles dedicated to beer.
This is actually inside of a CVS, in Modesto, California.  A CVS drugstore.
So upon entering this CVS in Modesto, California, it's the same kind of stuff you'd find at any other CVS across the country.  Over the counter drugs, a pharmacy, lots of toiletries, cosmetics, cheap Taiwan-made knock-off toys, magazines, candy and a small variety of snacks and drinks.  But then you take a sharp right, and then BAM it's a full-fledged liquor store.
And there's no segue into it, either.  It's the same carpeting, shelving and bright, fluorescent lighting.  It's like cruising the aisles of target and going from baby clothing, sporting goods, sex toys.
The funniest thing is that there really were liquors and whiskeys that were available for discounts if you scanned your CVS Extra Care card.
Sonny Chiba approves, since he loves CVS.