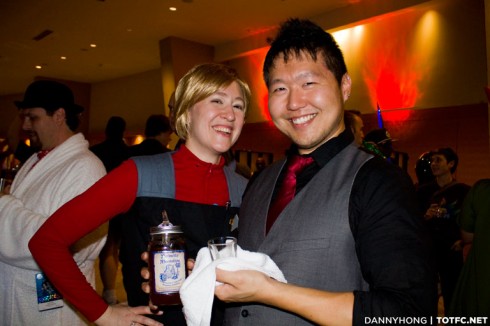 Overall, I can say that Dragon*Con was a pretty good time, and about what I expect out of the D*C experience on a yearly basis.  I got to see and hang out with a bunch of people, I took a lot of pictures, and I shared good food and drink with decent folks.  Sometimes I think it's a little absurd that I dump a ton of money into doing such things, but eh, it's once a year, why the heck not?
A couple of notable things happened during my weekend – like spending most of Friday night at the hospital because one of my friends called me and explained his dire need to go to urgent care out of the blue (nothing severe, but still necessary).  Then there was the ironically good sense of mind I had on one night to decide to sleep on the floor that prevented me from getting puked on that makes me realize how lucky I was on one evening.  And then there's the always fun instances of watching a fellow nerd decide to handcuff himself in proposed matrimony that always is a joyous occasion at D*C.  Hospitals, puking and engagements, oh my.
Other things weren't that much of a surprise, like Alabama beating the ever-living crap out of Virginia Tech down the street from the convention, and that the mason jar of peach moonshine I had brought with me went over as well as Hulkamania in its prime.   Something that was somewhat surprising to me was the rain that occurred on Sunday afternoon that pretty much pervaded into Monday morning; of all the Dragon*Cons that I've been to over the last 12 years or so, I don't ever remember there being such massive rainfall during the convention itself.  A day before, or after sure, but never during the actual event itself.  But 2013 has pretty much been the rainiest year ever, so I guess at this point, it shouldn't be that much of a surprise that it finally got to affecting D*C too.
But it's not to say that the con was without some discussion however, as there were some pretty key matters that should be brought up, and hope to be addressed by the convention itself for future years.
This was by far, the busiest I've ever seen a D*C, ever.  If the typical guestimate on an annual basis is somewhere in the neighborhood of 50,000-55,000 attendees, then this year had to be closer to like 65,000 people who packed the houses.  There were at times LITRALLY.  No place to move, breathe or stand, regardless of which hotel you were at.  There was one notable instance where I couldn't move or stand at the Marriott, so I decided to wander over to the Hyatt, via the outdoor stairs.  I walked into the Hyatt, only to discover the massive logjam at the stairs and escalators immediately inside, and decided to head back to the Marriott the same way I came in, only to discover that now the stairs heading to the Marriott were also jam-packed and completely unmoving, meaning that I was very much trapped.  This was the kind of story that everyone had throughout the weekend, and a conversation that seemed to pop up with no matter who I was speaking with.
The immediate culprits were the tourist football fans who decide that watching the Nerdi Gras is a more entertaining way of killing time before and after game time, but the fact of the matter is that this year more than ever, were there fewer obvious football fans in the hotels themselves.  Blaming the football fans is kind of off the table this year, boys and girls.
It's not that the volume of people was really the biggest issue, so much as it was the overall temperature of the entire convention that seemed to rise in proportion to how many people were in the building(s) at any given time.  Seriously, last summer was a vastly hotter summer than it has been this year, but it wasn't nearly the sauna as it was this year.  Either the Marriott had some severe HVAC malfunction in the public areas, or the sheer volume of people rose the overall temperature of public areas at least 15-20 degrees higher than it should have been.  Or maybe it was both, but the bottom line is that it was widely an uncomfortable climate pretty much everywhere throughout the weekend.
Personally, I think that this is the year where Dragon*Con as a whole might want to consider capping the attendance.  I see both sides to the argument and that Dragon*Con is ultimately in it to make some profit, but the fact of the matter is that if this is kind of going to be the norm, it's only a matter of time before long-time attendees are going to feel alienated or just plain exasperated with the deteriorating conditions of the event, due to an unregulated attendance.
I don't think there's anything wrong if D*C went the route of capping the attendance, going solely pre-reg, or a combination of both.  Hell, take a page out of Comic-Con's book, and charge more for a four-day pass; Regular CC'ers are used to paying $140+ for full CC passes, and if it meant that my D*C experience would be more comfortable and less pain in the ass to move about, I think I would be willing to pay more for my admission without any complaints.
But those are just my opinions.  I'm speaking out as a long-time attendee who wasn't necessarily a fan of the out of control attendance numbers and the resulting uncomfortably hot and humid conditions that ensued, it would take a little bit more than that to for me to completely alienate, as long as all my friends are still aboard.
As far as my romantic pursuits are involved, since there are a surprising number of people who seem to care whether or not I find a girl or not at D*C, the few times I was drunk enough to get over my apprehensions of approaching girls, ended with some pretty grand whiffs.  It's like I think I exude this "single guy" vibe that scares off women, and even if I feel confident and decent about myself, it's like yeah lol nope.  But hey, can't blame a guy for trying at times, there's no getting on base unless you swing the bat sometimes.
To everyone, old friends, new friends, acquaintances I've kind of known and names and faces to associate with positive connotations, thank you all for another memorable year of Dragon*Con.  Whether we spoke once for four minutes, ran into one another countless times for brief and sparing words, or sat around and shot the shit while having a cold one or three, it was all time well spent.  I'm thankful for everyone's time and company, and I'm extremely thankful that for the first time in a few years, I did not suffer the indignity of a raging hangover.
In the grand spectrum of things, despite the fact that for whatever reason I can't really feel the big toes on either of my feet, and that I caught the conHIV something fierce this year, I look back with a positive connotation to this year's Dragon*Con, and I look forward to it again next year.