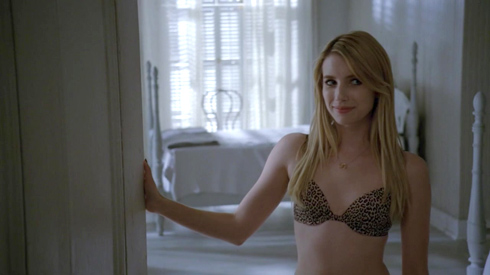 All throughout the year, my DVR box accumulates shows I want to ultimately watch, but don't really often do.  Part of it has to do with the fact that there aren't really that many opportunities in which both Jen and myself are free at the same time to where we can watch an episode here and there, but then there's also a lot of time that I spend playing LoL that I really could be using to catch on television shows.  But for all intents and purposes, it's safe to say that I'm pretty much always behind when it comes to television programming.
So over the holidays, I was able to catch up with all nine-aired episodes of the third season of American Horror Story, the Coven arc.  I have been thus far pleased with it, and I can easily say that visually, it is my favorite season yet.  The filmography is stimulating, and the creative use of filters and fisheye perspectives really help accentuate the bright and sterile-looking settings that the show takes place in, contrasting to the dark and sinister atmosphere of the show's actual story.
Upon further thinking about it, I would venture as far as to say that I think Coven has been the best season out of the three, outright.  The first season was an amusing and entertaining revolving door of interesting characters, but it more or less turned into this repetitive bloodbath of ironic killings that really didn't go anywhere.  Asylum was good as well, but it honestly got a little too Shyamalan-ish in terms of the story, and it was a bit quick to pull the trigger on particular characters, while putting excessive emphasis on others, in my opinion.
But I think with Coven, the show's managed to keep a happy compromise between the macabre standard that has been set and expected of the program's nature, as well as kept a smaller, tighter cast of characters, instead of constantly introducing a flavor of the week.  Amidst it all, there's a mystery plot that has yet to be revealed, even with supposedly three episodes left in the season after the winter hiatus – who is the next supreme??
The mystery aspect is an excellent addition in my opinion, and a good component that truly makes each preceding episode indispensable.  I've got my suspects to whom it could be, and there are clues sprinkled about to help the viewers at least make educated deductions on whom it might not be, but regardless of whom it turns out to be, I'm finding that it's an entertaining chase to the finish, and I look forward to when the hiatus passes, and the rest of the season plays out.
It also goes without saying that I love the casting of this season, too.  I enjoy how the series recycles a lot of its original cast members and recreates them into varying roles, as well the impeccably good addition of new cast members; Kathy Bates and Angela Bassett are both striking characters that I can't believe a lot of the shit they say in the show comes from their mouths.  I'm also now sort of smitten with Emma Roberts, as her role as the spoiled, bitchy, man-eating starlet witch is a stark contrast of when she portrayed Nancy Drew a while ago.
But when the day is over, the story revolves around Jessica Lange, the uncrowned queen of American Horror.  She is still the best, most entertaining, venomous tongued, center of attention character in Coven, much less the other seasons, and as long as she's on screen, there's zero chance of me walking away, lest I miss what vitriol spews from her forked tongue next.  I may lust after the Emma Roberts and Alexandra Breckenridges, but if the show ceases to have Jessica Lange, there's really no point in watching at all.