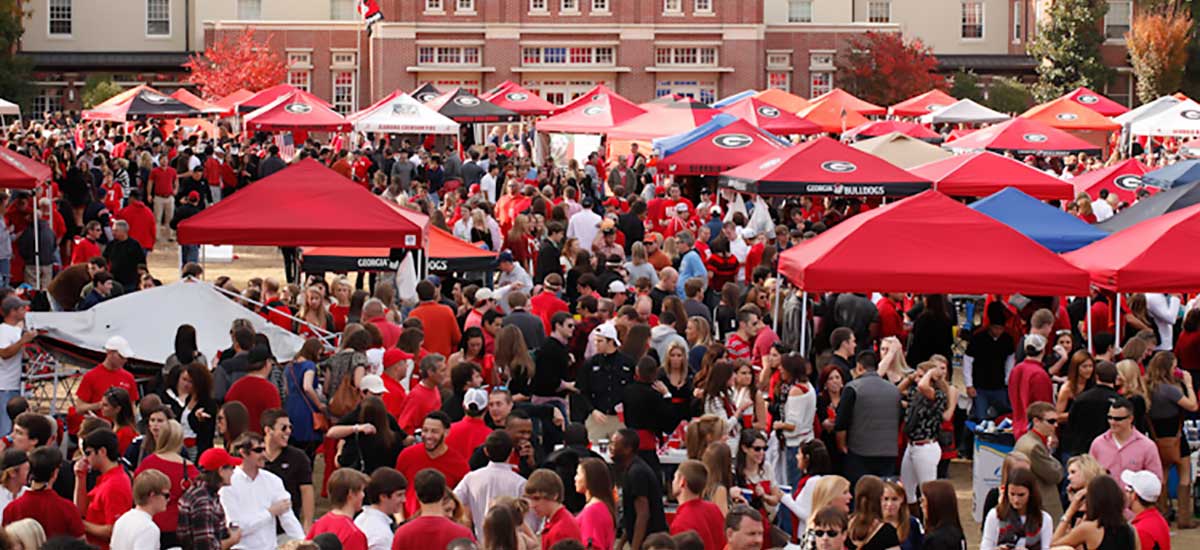 In case the passing of Campus Carry didn't make it clear enough, the AJC wants people to know that guns will be allowed at tailgating events in Georgia.
Look at the picture above: after July, a tailgate in Athens will still look like that, except that concealed behind strategically placed articles of clothing will be shitloads of guns.  What could possibly go wrong when oceans of alcohol are introduced, and when audacious opposing fans on the premises trigger instant animosity?
I can't shake my head enough at the stupidity of Campus Carry.  It is something I can't get over, and I feel extremely fortunate and safe that I am not in college anymore, much less in Georgia, and that I do not really know anyone who is still in college anymore these days.
This is not a matter of if, as I've probably already said before.  It is most certainly a query of when, the first shooting incident and/or fatality is recorded because guns are allowed on campuses throughout the state of Georgia.  Provided there is no gun-related incidents prior to the start of the college football season, I'm looking at two dates in particular as high-risk for shootings: October 28, when Florida rolls into Athens and November 25, at the annual Georgia vs. Georgia Tech game, which will be played at Tech, in Downtown Atlanta.  I will not be the least bit surprised if an incident(s) of gun violence breaks out at one or both of these events.