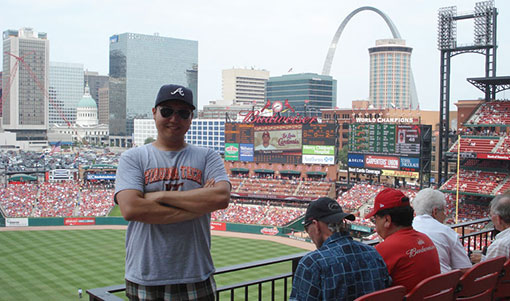 I was having a one-sided conversation the other night with the mythical gf about how I believe that I have a magical touch when it comes to visiting baseball parks, where teams graced by my visits are destined to get into the playoffs.  She thought it was so absurd that she refused to really listen to any of my claims, so it got the gears turning and instead it ends up becoming fodder for the brog that still has no definitive timeline to when will be back up beyond April 2014, but I still keep on writing because that's what I do.
At the time I'm writing this, the 2017 MLB regular season has officially come to a close, and there are no tie-breakers, no game 163s or any additional games that need to be played.  The playoff field is set, and the path to the World Series is entirely in place for all ten contenders.
Among these contenders are the Arizona Diamondbacks, whom prior to the start of the season were 100/1 odds to make it to the World Series.  Sure, they're still nine games away from the World Series, but at 100/1, that's pretty much saying that the playoffs weren't necessarily a believable prediction back in April, either.
The Arizona Diamondbacks are also the only team I visited throughout the 2017 season, and said game was in fact, the only regular season MLB game I attended all season (I'm a terrible fan, yes).  Yet in spite of the odds, the Diamondbacks won 93 games, and if not for the Dodgers winning 104, are in the playoffs, on a collision course with the Colorado Rockies in the dreaded winner-take-all Wild Card game. 
They could very well end up losing and being one-and-done, but the fact of the matter is that let the history books show, that the Arizona Diamondbacks made the playoffs.
That has a tendency to happen whenever I come visit your ballparks.
In 2016, the only ballpark that I visited was Progressive Field, the home of the Cleveland Indians.  I was extremely fortuitous that a monsoon that day cleared very quickly, and my dad and I were able to actually get the game we drove a long way to see in, because Cleveland had been a ballpark that had eluded me for literal years, due to a surprising difficulty in managing to get there.
However, prior to the 2016 season, the Indians weren't as bad as the 2017 Diamondbacks, but at 16-1 odds, they were still a middle-of-the-road pick for the World Series, but by the time November 1, 2016 came around, the Indians were deadlocked in extra innings of Game 7 of what was quite possibly the most exciting World Series that I'd ever witnessed in my entire life.
You're welcome for that ray of hope, Cleveland.
Same story in 2015: I visited one ballpark, Citi Field in Queens, New York.  The Mets were 30-1 odds to go all the way, and pegged to win just 82 games.  They instead won 90 games, the division, the pennant, and made it to the World Series.  Granted, they jobbed to the Kansas City Royals in five (thank goodness), but the fact remains, by my divine baseball presence, even the woeful lolMets, gained a degree of success that only those graced by my presence have the privilege of enjoying.
And with eleven years of data at this point since I officially started my ballpark quest, I do have reason to believe that I am clearly something of a baseball charm to teams except my own, because (almost) without fail, every single year, a team that I visit, gets into the playoffs.  What they do once they're there is out of my hands, because much like Moneyball, it's a crapshoot once the playoffs begin.
Team(s) visited:

Blessed team(s):

2007

Atlanta Braves

Washington Nationals

Seattle Mariners

Boston Red Sox

Philadelphia Phillies

Toronto Blue Jays

Boston Red Sox, won World Series

Philadelphia Phillies, NLDS (clinched on final day of the season)

2008

Los Angeles Dodgers

Los Angeles Angels

San Diego Padres

Los Angeles Dodgers, NLCS

Los Angeles Angels, ALDS

2009

Cincinnati Reds

Tampa Bay Rays

Minnesota Twins

Minnesota Twins, ALDS (clinched on final day of the season)

*Philadelphia Phillies, World Series (repeat visit)

2010

Pittsburgh Pirates

Chicago Cubs

Milwaukee Brewers

Chicago White Sox

NONE FAIL

2011

Kansas City Royals

St. Louis Cardinals

Florida Marlins

St. Louis Cardinals, won World Series (also clinched Wild Card on final day of the season)

2012

San Francisco Giants

Oakland Athletics

San Francisco Giants, won World Series

2013

Detroit Tigers

Colorado Rockies

Detroit Tigers, ALCS

2014

Houston Astros

New York Yankees

NONE FAIL

2015

New York Mets

New York Mets, World Series

2016

Cleveland Indians

Cleveland Indians, World Series

2017

Arizona Diamondbacks

Arizona Diamondbacks, NL Wild Card #1+
So as you can see, I've got a pretty good track record of blessing teams that I visit.  2010 was a fluky failure of a year, since I had a 1/4 chance of getting a team into the playoffs, but not even my divine intervention could get those rosters enough wins to make the playoffs.  2014 wasn't much better, since the Astros were still rebuilding, and the Yankees kind of shit the bed and let me down. 
But there are some years like 2007, 2009 and 2011, where teams like the Phillies, Twins and Cardinals all defined baseball magic, punching their tickets into the playoffs on the last days of their respective seasons.  None were more exciting to me personally than the Twins in 2009, when I was actually present at the Metrodome during the supposed final series at the stadium, before the Twins caught the Detroit Tigers and forced a game 163, before making the playoffs before succumbing to the Yankees.
The point is, this is concrete evidence that it is me and only me, that makes teams make the playoffs.  The evidence couldn't be any more prevalent than in recent years where my ballpark trips have been limited to one new park a year, and in all of them, those teams make the playoffs.
The real litmus test should really come next year, where there is only one ballpark left in my pursuit to visit all 30 MLB teams.  If I manage to get out to Las Vegas next year prior to the start of the season, I'd say I'd want to place a bet on the Texas Rangers to make the playoffs, but I think even my divine ballpark magic would be cancelled out by my putrid track record of betting on sports.  But I think maybe others might benefit with some small bets that could yield huge returns due to my magic touch.