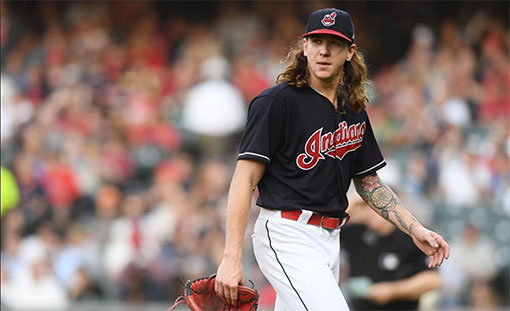 Honestly, I'm surprised it's taken this long: Cleveland Indians demote pitchers Mike Clevinger and Zach Plesac for disciplinary reasons AKA they went out at night while on the road instead of adhering to a team-wide curfew and safely containing themselves at the team's hotel and lied about their actions, putting the entire team at exposure risk to coronavirus
At the time I'm writing, this, the Cleveland Indians are 4th place in the American League, and regardless of the expansion of the playoff field, they'd have been at least, playing for the Wild Card, even if it weren't.  They're a playoff team, right now.  It's extraordinarily difficult to get into the playoffs in MLB, as prior to this year's expansion, typically only five teams make the playoffs, with the bottom two requiring a play-in game to become eligible for a best-of series.
A lot of the Indians' success has been on the arms of Clevinger and Plesac, whom have been both pitching decently in a year where everyone is a little off-kilter due to the uncertainty of the year.  But it says a lot about the makeup of a team, when a team is without hesitation willing to jettison two starting pitchers because of breaking the rules.
Because it's not even so much about the rules as much as it was the fact that two guys needlessly and selfishly put themselves over the rest of the team, and furthermore raised the potential for coronavirus exposure, especially when pretty much every single franchise in MLB has had at least some player or personnel exposed at some point already.  Fortunately, both tested negative, but that's really besides the point.
It should be mentioned that the Indians also have a player who is a leukemia survivor, which is of course outstanding, but also means that he's immunocompromised, and is at higher risk of contracting coronavirus if exposed.
The point is, both Clevinger and Plesac were selfish douches who weren't taking coronavirus as seriously as their teammates were and put their selfish wants ahead of everyone else, as if the season won't be over in just two more months, as if they were getting paid like paupers to begin with.  And that they lied about it too, which doesn't help either of their causes.
They're basically a metaphor of how selfish and spoiled American ideals are, that two professional athletes, making professional athlete money can't get their own selfish needs aside for just three months for the betterment of all their coworkers and teammates, and almost put everyone at risk in the process.  And then lied about all of it to try and save their bacon.
As I've stated before, with a 60-game season, Major League Baseball is the ultimate jump ball this year.  The shittiest team can suddenly get hot, or the best teams can suddenly get bit by a rash of coronavirus cases and have key players sent to the taxi squad if not cancel games outright, making room for the shittiest teams to catch up.  But ultimately, a 60-game season is not a 162-game season, and one of the chief things casual sports fans love to dunk on is the fact that the baseball season is agonizingly long, but thanks to coronavirus, that's not going to be the case at all.
The best part of this whole debacle is the unintentional favor it's doing the Indians: by shipping both guys down to the taxi squad, both players will be denied major league service time, which long story short, puts a dent into their future earning potential, because it can possibly be the difference of a year before they can hit free agency and start making real fuck you money.  They did it to themselves.
And the ironically best part of this story is:
39-year-old left-handed reliever Oliver Perez said he would leave the team if Clevinger and Plesac returned to the roster
Oliver Perez?  That guy fucking blows.  He'd be doing the Indians a favor if he left the team and took his career 4.36 ERA with him.  But the Indians are trying to discipline players, even if it means punishing themselves and keeping Perez.
Either way, good on the Indians for dropping the hammer on these guys.  I kind of like Clevinger too, but in this current day, everyone needs to be taking this shit more seriously, and for a guy that's making professional ballplayer money, he can keep his dick in his pants until November, because it's not like anyone in the American League has any chance of beating the Yankees as it stands right now.