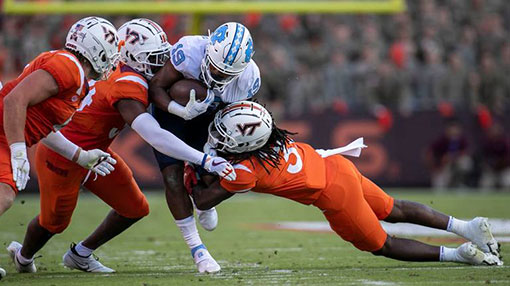 Earlier in the day, my wife and I were on a walk with the kids. We talked about how neither of us knew who our respective teams were even playing for their first games of the season, we've just been that busy and absorbed by parenting to have any time to concern ourselves over college football, much less a variety of other things.
She mentioned how tomorrow was the start of the season, but then I pulled the whole well actually thing about how the season had already started for some FCS and D-II scrub schools and how there were a handful of games on tonight-but nobody usually gives a shit about Friday night college football games, and they're usually just scrubs playing.
An hour later I'm get a text message from my step mother-in-law, saying Go Hokies! and I'm confused so I pull my phone out and check the internet and sure enough, scrub Virginia Tech is opening their season on Friday night, hosting the surprisingly highly ranked #10 North Carolina.  Fuckin' figures 
Anyway, to cut to the chase, Tech takes down #10 UNC, and on day zero of the college football season, it's the de facto upset of the week, and I would wager that no higher ranked team will probably go down, short of the loser of the #3 vs #5 game between Clemson and Georgia.
For one night only, Virginia Tech stands atop the world of college football, pulling the biggest upset of the season so far. Which will be something fondly to look back on when Tech will inevitably fuck up their season when they lose to like Pitt, or worse off, FCS school Richmond. 
But until the annual crash back to earth happens, it feels great to start the season off with a big W against a top-10 ranked opponent, as much of a fraud ranking it may have been, and division rival.