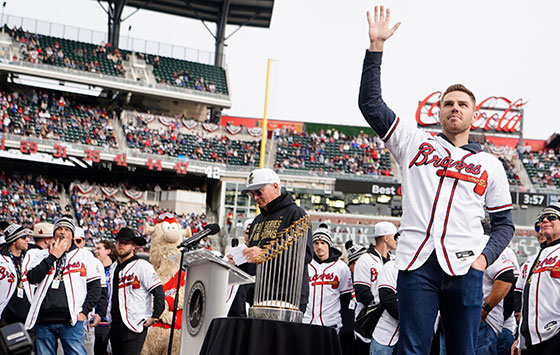 It's just business: Atlanta Braves trade four prospects for Oakland A's first baseman, Matt Olson; and then promptly sign him to an 8-year, $168M extension, metaphorically throwing in the towel at the possibility of re-signing franchise icon, Freddie Freeman
To me, the most disappointing thing about this whole turn of events is the perception that the Braves didn't even really try and re-sign Freddie Freeman.  Sure, the lockout was a great big elephant in the room that got in the way of business, but it's not like the Braves didn't have an entire year, or even the nearly two months after Freeman helped bring a fucking World Series title to the franchise, to do something to secure Freeman in Atlanta.
But then again, that's now how the Braves work, because the in spite of the perception that the team isn't as data-savvy as teams like the Oakland A's, Tampa Bay Rays and other Moneyball internet nerds love franchises, the Braves are basically MIT bean counting wizards in the accounting department.  Anything to keep profits up, shareholder value high, and revenues flowing, and absolutely anything, anything at all that threatens some old white guy getting $2.9 million dollars instead of $3 million dollars, is problematic and needs to be eliminated, no matter the perception, optics or disappointing the less-important stakeholders AKA those asshole fans.
Sure, I'm sure there's all sorts of actual truth about how the Braves tried, truly tried, behind closed doors and in private, and/or perhaps I've just had my ear so far away from the ground that I missed it all, but still, the general perception that I get is that the Braves hardly even tried to retain Freddie Freeman, and by acquiring a guy like Matt Olson, and immediately giving him a massive extension, just kind of reads like the franchise just held a big middle finger up to the guy that not only was the undeniable face of the entire baseball team, but also just helped bring a fucking World Series trophy to the goddamn city.
And I feel like most fans, especially the more casual they are, aren't really going to care about the projections, the statistics or any other justification the Braves front office are going to explain to try and justify their inaction with.  All they're going to see is that the Braves made little effort to retain a guy that was not just a very fresh and recent hero to the entire franchise's history, Freddie Freeman is also an outstanding citizen and human being whom everyone liked, adored and even his peers, rivals and fans from other teams always had to stop and admit that even they liked him too.
They're going to see that the Braves refused to go to 6-years and $180M, which was what Freeman's alleged request was, up from the supposed 5-years and $140M they wanted to pay, and that one single year was the straw that broke the camel back.  As if the Braves, or any other franchise in existence doesn't have a laundry list of bad contracts in their history, like Mike Hampton or BJ Upton, who hamstrung the Braves financially way worse than a single year of a post-prime Freddie Freeman possibly could.
Fans will also maybe see that the Braves will probably be raking in insane amounts of revenue and profit, especially after a World Series victory, and wonder why an ownership group that makes about $8 billion a year has any objection to a guy looking for $30M a year over six.  Frankly, Liberty Media could earmark that $180M from just their revenue boosts in 2022 alone, and still not be relatively close to impacted over the next six years because of it.
I'm sure there are more recent examples of iconic-to-a-franchise players walking after winning a World Series, but the last one that comes to mind for me is when Pedro Martinez was allowed to walk from the Boston Red Sox, after winning the 2004 World Series.  And the circumstances were fairly similar, because Pedro and Boston couldn't get over a single year, and he ended up going to the Mets because they gave him the fifth year he was hoping to get.
It's just business, is what the Braves are going to eventually say after they realize that they can't placate agitated fans at their petty bean-counting.  Fans aren't going to give a fuck about business either in circumstances like this, because Freddie Freeman is the kind of player and person that transcends the it's just business excuse. 
Guys like Nelson Cruz, Zack Grienke, or Ben Zobrist or Jonny Gomes are guys you let go because it's just business; the types of players that have a reputation of going wherever the money is, team success be damned.  Or utility-type role-players who bounce around the league, hoping to stick and get hot while there.
But a guy like Freddie Freeman, who rose to the king of the mountain with the team that drafted him, developed him, got called up, went through some lean years, and stuck with the franchise.  And won said franchise a fucking World Series, the first in 27 years; is not the kind of guy you pat on the butt while he's walking out the door with his bags packed and say it's just business.
It's not often that teams have the opportunity to have a Ripken, a Gwynn, a Jeter and Rivera; franchise guys who stayed with the teams that drafted and developed them, where they became icons, legends and retired with their singular teams.  And considering we're talking about the fucking Braves here, it's not often a team can have a second chance to have another, which is what they had to have Freddie Freeman become the life-long Braves to succeed the legendary career of Chipper Jones. 
For as much as the Braves franchise loves to expound tradition and old fashioned loyalty, they certainly are being hypocrites as it pertains to Freddie Freeman.  With guys like those, it was never just business, and those franchises all saw the merit and importance of keeping those guys on the team no matter what.  Frankly, given Freeman's current ability, accomplishments, stance in the Atlanta community, I do think he's attained such distinction to remain in spite of business.  And it's not like he's going to fall off a cliff immediately, the guy has been a superstar producer, and it stands to believe that there's still plenty in the tank before Father Time starts to sap his talent.
And I wouldn't even give a fuck if Freeman were to have been re-signed and then fell off a cliff.  Unlike a lot of armchair GMs, I do believe in a thing called past services rendered, and after all Freeman has done for the Braves, I feel he's built enough equity to absorb becoming an at-risk contract candidate.  Although I wouldn't bet that he would, at least for the first half of it.
I understand what the Braves front office and statisticians are looking at, which is obviously not Freddie Freeman himself, but just the numbers.  Matt Olson is younger than Freeman which obviously, obviously means he's better, and more worthy of a massive contract extension despite never playing a game for the team.  And his annual value won't be the $30M/per that Freeman is looking for, which clearly makes him a superior option.  They see a guy that is originally from the Metro Atlanta area and think that casual Braves fans will immediately absolve the Braves from letting Freeman walk, because all good ol' Georgia boys are meant to be Braves or some bullshit like that.
None of it is really going to matter to lots of Braves fans who have any shred of humanity in them.  I kind of feel bad for Matt Olson, because he is a talented guy, and is from the Atlanta area, and is probably excited to some degree to being able to play for his hometown team.  But even by now, he's got to know the circumstances and the shadow he'll be playing from under, and by virtue of being not-Freddie Freeman, he stands to be in the crosshairs of a lot of undue criticism if he doesn't come out of the gate on fire.
The funny thing is that initially, I didn't close the book on Freddie Freeman yet, because I still thought there was a small possibility that the Braves would still try and re-sign him, because of the new rule in 2022 with the designated hitter coming to the National League, there would be nothing at all wrong with a team getting a competent hitter like Olson, and having him and Freeman share 1B duties, while the other DHs.  But when the Braves signed Olson to his massive extension, then even I have to believe that the door has been shut on Freddie Freeman, which really kills me as a Braves fan.
But for right now, fuck the Braves.  I'm fucking sick of the front office and Liberty Media ownership that doesn't give two shits about anything but money, completely in spite of the fact that the Braves have a still-open championship window.  For all we know, Matt Olson could fill Freeman's shoes right away and repeat as champions, but it just won't be the same feeling without Freddie Freeman in the picture, because over the last decade, there really was no guy that was more synonymous with the Braves than Freddie Freeman.
It's going to break my heart to see Freeman when he inevitably suits up for the Dodgers, who appear to be the front-runners at landing him, considering they pee money away like Shrek's piss, as well as Freeman's southern California roots.  And with the bullshit shenanigans of the strike, as well as letting Freeman get away without much of a fight, I hope Braves fans boo the fuck out of the team when Opening Day arrives, although I'd rather them protest en masse and just not go, but we all know that pipedream will never happen
But for real, fuck the Braves.  As fans, we've put up with a lot of bullshit personnel moves historically, like Tom Glavine to the Mets, trading Jason Heyward, letting Andruw Jones walk.  Admittedly, none of those are great examples considering they all declined rapidly after leaving which does make them smart passes to have taken in hindsight, and it remains to be determined once Freeman leaves, but it doesn't take the immediate sting out of the current.
Freddie Freeman was the face of the Braves, and one of the faces of Atlanta sports in general.  To let him go, without so much even trying, is a slap in the face to him and to all the fans who love him.  I can't say it enough, but man, fuck the Braves sometimes.